GULGBTQ+ triumphs
‌The University's highly active and high-profile GULGBTQ+ student group has triumphed at the Scottish Lesbian, Gay, Bisexual, Transgender and Intersex Awards.
The team won the 'Student Group of the Year' award, thanks to huge support and approval in the online voting.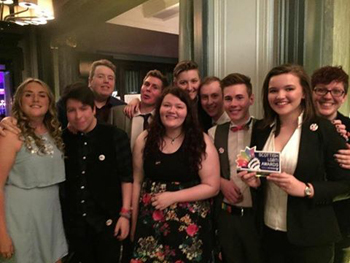 A message on the GULGBTQ+ Facebook page reads:
WE DID IT!
We are the happiest people in the whole world (or at least Glasgow) right now.
Thank you so much to everyone who voted for us and everyone - today and during the last 40 years! - for making us the best student society in Scotland.
Now we've got the trophy to prove it.
Four hundred guests, including the first minister, leaders of the Scottish Conservatives and Scottish Greens, politicians , journalists, community groups and organisations from across the public and private spheres attended the inaugural awards in Glasgow.
The awards, organised by the Equality Network, celebrated people and groups who have made important contributions to LGBTI equality and human rights in Scotland during the past year.
The red carpet event was hosted by comedienne Karen Dunbar and featured performances from Michelle McManus and Horse MacDonald.
Scott Cuthbertson, of the Equality Network, said: "It was absolutely wonderful to be celebrating the achievements of Scotland's LGBTI community at the first Scottish LGBTI Awards. The past year has been an amazing year for LGBTI equality so it was inspiring to celebrate how far we have come since decriminalisation in 1980 with so many supports and allies of equality while looking to the future and talking about the challenges LGBTI people still face."
Outstanding Campaigner
Dr Matthew Waites (Sociology) was a nominee in the Outstanding Campaigner of the Year category of the competition, following events such as the LGBTI Human Rights in the Commonwealth conference at the University of Glasgow on Mandela Day 18 July 2014, where Glasgow Human Rights Network partnered Equality Network, Kaleidoscope Trust and Pride Glasgow in work with international activists.
---
First published: 14 September 2015