Getting to know QuantIC
QuantIC is the UK's centre of excellence for research, development and innovation in quantum enhanced imaging and brings together the Universities of Glasgow, Bristol, Edinburgh, Heriot-Watt, Warwick, Oxford and Strathclyde with more than 30 industry partners.
The central team is based at the Quantum Technology Hub here at the University of Glasgow. Find out more about what they do:
Five minutes with QuantIC's Principal Investigator, Professor Miles Padgett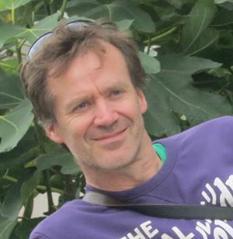 Tell us about your role as Principal Investigator for Quantic
When setting up QuantIC we deliberately chose to separate the role of the PI from that of Director (Steve Beaumont). This allows me to focus on the Science and Technology developed in the Hub, keep abreast of developments and work with the other work package leaders to ensure our technology addresses industrial need.
Could you tell us a bit more about the technology that is being developed at Quantic
How do you develop cheap cameras in the infrared? How can a camera see through smoke or fog? How can you see around corners? How can you predict earthquakes or volcanic eruptions using a gravity sensor? How can you image underneath the skin? In QuantIC, these are some of the questions we have answered and we are looking to take our technology to the next level by working with industry to identify more applications and new market commercialisation opportunities.
Where do you think this will have the most impact and how?
When we set up QuantIC we did so with over 30 letters of support from companies, both small and big across a whole range of sectors. Our goal now is to translate these letters of support into letters of thanks.
We already have partnership projects looking at translating technology to market with companies like Selex, an international leader in electronic and information technologies, MSquared, who focus on the development and manufacture of next generation lasers and photonic equipment and ST Microelectronics, who is one of the world's largest semi-conductor companies.
Just like the first generation of quantum technology, which gave us the semi-conductor and the laser inside devices like a CD player, we hope our technology will be as commonplace in the future.
What makes a good industrial collaboration at Quantic?
The elements of good industrial collaboration and good communication go hand in hand at Quantic. Listening, discussion and agreement; it's about working together to achieve something together that neither party could do alone.
What is your vision for Quantic?
My vision for the hub is to revolutionise imaging systems for industry and impact society through the development of quantum enhanced cameras. That's what it's about. Quantic - "imaging the future".
---
First published: 9 September 2015