New University Strategy on its way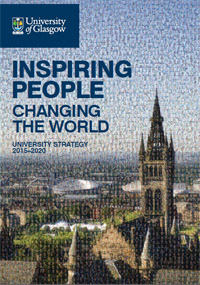 Copies of the new, University of Glasgow strategy 2015 - 2020 Inspiring People - Changing the World are now on their way to all members of staff.
There will be full reporting on the new strategy in next week's Campus e-News, including an interview with Senior Vice-Principal, Professor Neal Juster, who has been driving the process and leading the wide-ranging consultations with staff that helped produce this important document for the University.
Launch events for the new strategy are being organised and shortly you'll be able to book your place for a session either on the main Gilmorehill Campus, or at the Garscube or Dumfries campuses.
You can also visit the new University Strategy pages.
---
First published: 7 September 2015