Korean students win trip to UofG
Four young Koreans – a student and three recent graduates – have been on campus, learning first-hand about the University's MOOCs (Massive Open Online Courses) programme in conjunction with FutureLearn.
Their visit was part of their prize – an all-expenses-paid visit to the UK and a number of institutions – after winning a competition set by the British Council and FutureLearn to find the best ideas for a MOOC.
Their winning ideas varied from one presentation on animal behaviour (and how animals are attracted to each other); the mathematical concept of infinity and whether there is a mid-point between finity and infinity; and a joint presentation on the importance of farming and organic food, aimed at the young people of Seoul City who may never have seen food in its growing state.
South Korea is renowned for its technological expertise, yet is only this month introducing K-Moocs into its education system.
Junha Kim, who studies maths at Kyunghee University, said he thought K-Moocs would take off in Korea because they helped to break down barriers in learning.
Sein Lee, a student of French and animal behaviour at Ewha Women's University, pointed out that although online learning was an integral part of the Korean education system, people had to pay to learn that way. She predicted there would be a lot of interest in MOOCs as they were free.
All buildings in Korea are very modern and business-like, but the historic and traditional buildings at Glasgow and other parts of the UK were motivational, said Youngin Choi, who did a Global MPA in governance at Sungkyunkwan University.
Her MOOC partner, Youngin Lee, who studied visual art at Kookmin University, said she had always wanted to see a very old education system at first hand.
The four competition winners also visited the National Film and Television School, Sheffield University, King's College London, the British Library and FutureLearn.
Kerr Gardiner, Head of Learning Technology & Media Production at the University of Glasgow's Learning and Teaching Centre, who organised the Glasgow leg of their visit, said that he hoped the competition would help to raise the profile of UK higher education in Korea as well as demonstrate the many benefits of MOOCs.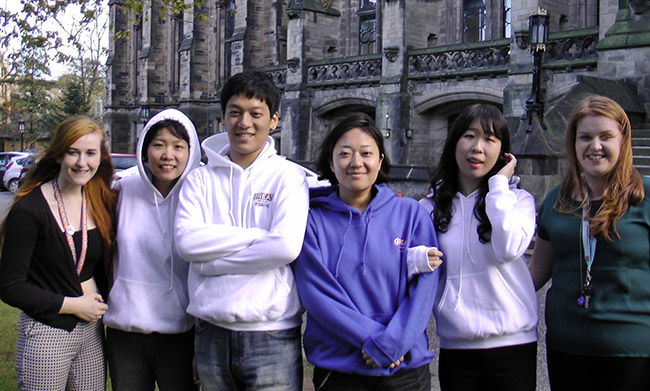 ---
First published: 26 October 2015