Keep the Campus tidy!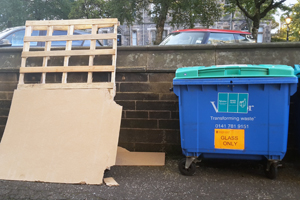 An appeal's gone out to staff and students not to dump rubbish near the waste and recycling skips on campus. It follows the dumping of a large section of pallet near the waste bins at the side of One A The Square in the main Gilbert Scott building.
Hospitality Services say the refuse collectors will not uplift rubbish like this and disposing of waste then becomes time consuming and expensive.
Hospitality Services also say the glass bins are still not being used correctly. If items other than glass are put into the bins then they will not be collected and the glass won't be recycled.
Please help out and see the that campus recycling points are being used properly and that we keep the University campuses looking good.
As ever, there's much more information on the University's recycling web pages.
---
First published: 20 October 2015