Former PM warns on Union
Published: 13 October 2015
Gordon Brown delivers hard-hitting warning to Government in speech at the University Chapel.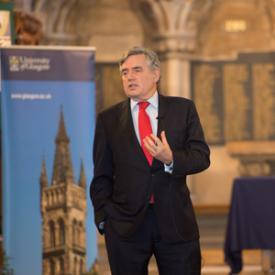 In his familiar pacing style, former Prime Minister Gordon Brown held his audience spellbound in the University Memorial Chapel last week as he delivered a stark warning to David Cameron's government that they risked bringing the Union to the point of destruction if they failed to deliver promised welfare top-up powers to the Scottish Parliament.
Mr Brown's speech, "Scotland – what next?", delivered without notes to an audience of 300, was an 11th hour intervention, warning that the UK Government had just two weeks left to make changes to the Scotland Bill and deliver the Smith Commission's recommendations.
"The powers that the Scottish Parliament were promised – and need but have yet to be given – are the clear and unambiguous right to top-up welfare benefits and an end to any suggestion that a UK government can prevent the Scottish Parliament administering such change if it decides to do so," said Mr Brown.
"The two changes are necessary, not just because of promises that have been made when the Smith Commission was accepted but also because Scotland is about to be at the sharp end of welfare cuts as a result of the Government's austerity programme. The new powers will also determine how much the Scottish Parliament can influence the levels of child poverty which fell in Scotland under Labour from its 1997 level of 330,000 children in poverty to its 2010 level of 170,000. Modelling by the Institute of Fiscal Studies suggests this figure is sadly expected to rise with a further 100,000 children in poverty by 2020 – back to nearly 300,000 – as a result of welfare cuts," he added.
Mr Brown also paid tribute to moral philosopher and economist Adam Smith, one of the University's most renowned alumni, saying Smith's work in the 18th century had laid the foundations of his own vision of global co-operation .
---
First published: 13 October 2015