First Minister pays tribute to Wolfson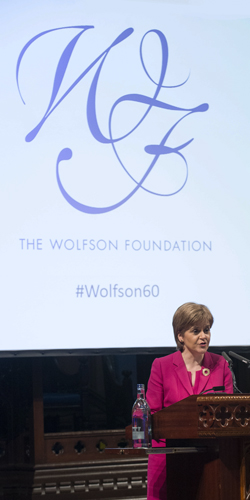 The First Minister joined more than 200 leading figures from across the education, health, and cultural sectors to celebrate the 60th anniversary of the Wolfson Foundation at Bute Hall last Thursday. The Foundation's founder – Sir Isaac Wolfson – was born to Jewish immigrants in Glasgow in 1897. He set up one of the country's largest funding charities, the Wolfson Foundation, which has given away some £1.7 billion since 1955.
First Minister Nicola Sturgeon and guest speaker Sir David Cannadine paid tribute to Wolfson's philanthropic legacy. His charity has maintained close links to Scotland, with over £150 million awarded to higher education, health and cultural projects in Scotland since 1955, and £50 million within Glasgow alone. Some 1,000 Scottish projects supported include the Wolfson Medical School at the University of Glasgow and Wolfson galleries in Edinburgh's National Museum Scotland. The largest awards have been to Scotland's universities.
Sir David Cannadine's speech highlighted the critical role of philanthropy in an era of mass education, claiming it made universities "stronger places, allowing them to draw on diverse streams of income rather than being excessively dependent on one single stream" such as state funding or student fees.
Gorbals
Sir Isaac Wolfson was born in the Gorbals in 1897 to a poor Jewish family who had fled persecution in Russian Poland. Joining his father's business as a picture frame maker at just 14, Wolfson rose to make his fortune in business with Great Universal Stores. The Wolfson Foundation, which is now chaired by his grand-daughter Dame Janet Wolfson de Botton, has committed more than £112 million to Higher Education in Scotland. By supporting Scottish universities, which Sir David described as "one the greatest glories of the Scottish nation", Wolfson had, Sir David claimed, "repaid many times over the debt his family owed Glasgow" and "been unstinting in the promotion of academic excellence."
Paul Ramsbottom, Chief Executive of the Wolfson Foundation, said: "It is a great privilege and pleasure to celebrate the Wolfson Foundation's 60th anniversary in the city which welcomed Sir Isaac Wolfson's family as refugees so many years ago. Our funding in Scotland remains important to us, and tonight is a celebration above all of the wonderful organisations and individuals that we have been able to support. We are honoured to be joined by the First Minister and so many distinguished individuals from Scotland's admirable cultural institutions."
Twitter: @WolfsonFdn
Facebook: WolfsonFoundation
---
First published: 5 October 2015