News and events round-up
Published: 5 October 2015
Sir Michael Stoker Building is opened...Editorial Board applications for 'Groundings'...UofG in 10,000th issue of The Lancet.
Sir Michael Stoker Building officially open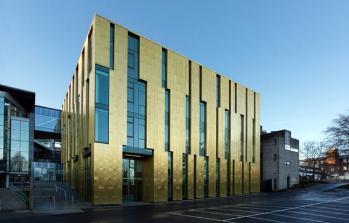 A new £23 million facility for virus research has been officially opened on the Garscube Estate at the University of Glasgow.
The Sir Michael Stoker Building supports world-leading scientific research by the UK's largest group of virologists.
The building takes its name from the first Chair of Virology at Glasgow University and one of the country's most pre-eminent post-war scientists.
Professor Sir Mark Walport FRS, chief scientific adviser to the government, presided over the ceremony as the Sir Michael Stoker Building opened its doors.
Professor Massimo Palmarini, Director of the MRC-University of Glasgow Centre for Virus Research, said: "The CVR is now fully operational in the magnificent new Sir Michael Stoker Building.
"The facilities we have here provide us with the very best environment in which to conduct our research and the building is a fitting tribute to the legacy of Sir Michael Stoker.
Groundings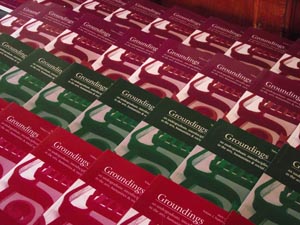 The Editorial Board Application process for Groundings (Vol. 9, 2015-16) is now open.
All undergraduates at the University of Glasgow are welcome to apply for one of the twelve vacant positions on the Editorial Board.
The deadline for the submission of applications is 23:59 on Wednesday 14th October 2015.
Applications should be sent to arts-groundings@glasgow.ac.uk

For application forms, details of how to apply, and further information visit: Groundings.
Applicants, and prospective applicants, are encouraged to attend a Q&A session about Groundings on Wednesday 7th October 2015 at 5pm in room 208 of the John McIntyre Building.
Visit Groundings Q&A for more details.
As a member of the Editorial Board, you would be involved in the publication of a reputable, peer-reviewed, undergraduate academic journal in the arts and social sciences.
Groundings is one of the few undergraduate academic journals in the UK, and opportunities of this nature are very few in number. It could be of particular interest to arts and social science undergraduates who want to build a career in publishing or academia.
If you have any questions, email Groundings at: arts-groundings@glasgow.ac.uk
UofG in 10,000th issue of The Lancet
The Lancet one of the most prestigious medical journals in the world, published its first issue on 5 Oct, 1823. To mark the 10, 000th issue, the journal published a selection of research highlights.
The University of Glasgow was the only university to feature three times in the timeline highlighting the Universities history of conducting ground-breaking research.
The University of Glasgow research highlights were:
1867: Lister argues for antiseptic practice in surgery.
1958: First description of imaging using ultrasound.
1974: Introduction of the Glasgow Coma Scale, remains in use today.
Read the full timeline at The Lancet.
---
First published: 5 October 2015