Global rankings rise for the UofG
The University of Glasgow has risen to 76th in the 2015-16 Times Higher Education World University Rankings - up 18 places on the 94th spot achieved in 2014-15 and the highest ever placing for the University.
Professor Anton Muscatelli, the Principal and Vice Chancellor of the University of Glasgow said, "Attaining our best ever placing in the Times Higher Education World University rankings caps a fantastic year for the University of Glasgow. It comes just after we became the only UK University to have attained a five-star plus award in the QS World Rankings and as we celebrate our highest ever position in the National Student Survey, joint top in Scotland.‌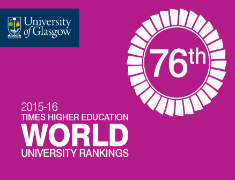 "We were named the Herald Scottish Higher Educational Institute of the year in July and have again been shortlisted for UK University of the Year. All of this is tremendous not just for Glasgow but for the reputation of higher education in Scotland. It is a great tribute to the quality of our staff and students and is yet more evidence that the University of Glasgow is one of the world's leading research and learning establishments."
Liam King, President of the University of Glasgow's Student Representative Council said, "Students will be delighted, but perhaps not surprised to hear that Glasgow has soared in the latest world rankings. The excellence of the teaching and research at the University of Glasgow has been reflected in brilliant National Student Survey scores, and anyone who comes here knows the importance that is placed on the overall the student experience which is genuinely second to none."
Phil Baty, editor of the THE World University Rankings, said: "The Times Higher Education World University Rankings, now in their 12th year, apply rigorous standards, using tough global benchmarks across all of a global research university's key missions – teaching, research, knowledge transfer and international outlook. The results are trusted by students and their families, academics, university leaders and governments. For University of Glasgow to make 76 in the world is an outstanding achievement to be celebrated."
---
First published: 5 October 2015