Antibiotic Guardians
‌A group of students studying Microbiology, Parasitology and Virology promoted European Antibiotic Awareness Day (Nov 18th) around campus last week.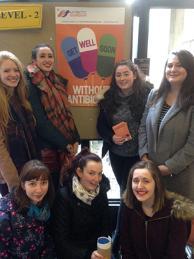 The students spent the week handing out flyers and posters as well as holding lectures for younger year groups on the threat of antibiotic resistance.
One of the student volunteers Jocelyn Gilmour said: "Antibiotic resistance is no longer a problem of the future but a problem of right now.
"Without effective antibiotics, basic healthcare procedures will become dangerous and life threatening."
To find out more information or to sign the Antibiotic Guardian pledge, visit Antibiotic Guardian.
Will you be an Antibiotic Guardian?
---
First published: 23 November 2015