Great War Fashion
‌Great War Fashion: Interpreting Women's Experiences of Conflict, Through Costume, a lunchtime talk by Lucie Whitmore
Friday, 20 November 2015, at 13.15 in the University Chapel. All welcome.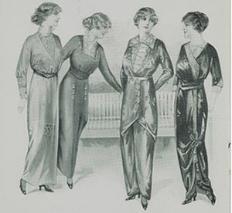 Lucie Whitmore presents her ongoing doctoral research and demonstrates the storytelling power of Great War fashion by exploring the emotional history of surviving garments from WWI.
In her research she uses evidence of wartime fashion trends to uncover the everyday experiences of women living on the British Home Front. From mourning dress to military trends, a strong narrative of wartime life runs through women's fashion and reveals the emotional, social, political, economic and cultural concerns of women living through that period.
---
First published: 17 November 2015