Remembering the victims
Hundreds of University of Glasgow students and staff took part in a memorial event in the Chapel to remember the dead of Paris and other, recent terrorist horrors.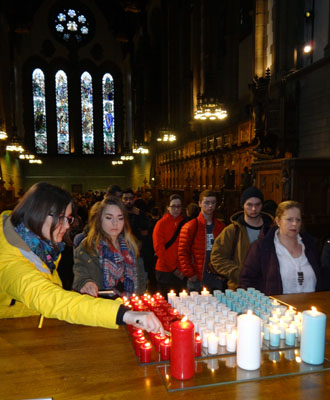 They began gathering just before two o'clock on Tuesday last week (17 November) in the University's Memorial Chapel, built nearly a hundred years ago to remember the dead of the First World War.
The event was organised to mark the Paris atrocity and also other recent acts of violence aimed at civilian populations including the attacks in Ankara, Beirut, Egypt and Tunisia that claimed hundreds of lives and left many men, women and children with appalling injuries.
Principal Professor Anton Muscatelli spoke briefly at the event. He told the sombre gathering: "Terrorism offers a challenge across the world. We've seen its impact in all continents. Beirut, Ankara, the Russian airliner over Egypt, Kenya, Nigeria, and now Paris. In all cases affecting ordinary, innocent people. People of all faiths and none. People like us.
"Friday evening was yet another terrible reminder - if reminder were needed - of just how devastating terrorist attacks can be: where defenceless civilians in an instant and without warning become helpless victims. Terrorism trades on fear, but worse still it seeks to trade on the aftermath – seeking to divide communities, polarise opinion, distort our sense of our shared and common humanity.
"Gathering together in this place - is our opportunity to reassert the things we do share: our love of freedom. Our desire for the wellbeing of our families and friends, and for ourselves. And our vital capacity to feel another person's grief, another's pain, another's loss. Now more than ever we must reassert those things that unite us as a global community."
There was a minute's silence followed by a rendition of the French national anthem, La Marseillaise, by the University Choir..
The University currently has 88 French members of staff and 261 French students.
The memorial event ended with staff and students being invited to light candles arranged in the French national colours, and to sign the University's book of condolences.
---
First published: 24 November 2015