UofG is a Living Wage employer
University of Glasgow Principal and Vice-Chancellor Anton Muscatelli has announced that the University is an accredited Living Wage employer and has signed up to the Scottish Business Pledge.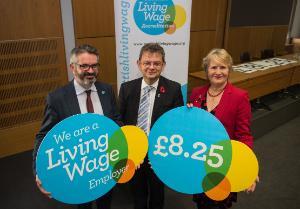 The Principal made the announcement at a Scottish Government event held in the University's Senate Room at the beginning of Living Wage Week to welcome the new Living Wage rate.
He was joined by Cabinet Secretary for Fair Work, Skills and Training Roseanna Cunningham and Poverty Alliance Director Peter Kelly to officially welcome the new Living Wage rate of £8.25. The event was co-ordinated with others held elsewhere in the UK to welcome the 40p increase in the Living Wage.
The new Living Wage, calculated independently and set by the Living Wage Foundation in partnership with the Poverty Alliance, will benefit thousands of employees at Living Wage-accredited organisations in Scotland.
Inspiring place
The University has also committed to the Scottish Business Pledge, a Scottish Government programme which encourages employers to adopt fair and progressive businesses practices, including 'supporting progressive workplace policies' and 'making progress on gender balance and diversity in the workforce and boardroom'.
Professor Muscatelli said: "We were delighted to welcome the Cabinet Secretary to the University of Glasgow and to host this significant event.
"We're proud to confirm our commitment to the Living Wage and the Scottish Business Pledge. They form an important part of our ongoing actions to improve the working lives of our staff, who play such a vital role in making the University the inspiring place it is.
"We have paid our staff at this level for several years now, making the necessary adjustments to the national pay scales accordingly. From May this year we have taken steps to ensure that all casual workers we engage are paid at least the Living Wage, and we're keen to remain an exemplar of good practice in the higher education sector."
Ms Cunningham said: "I firmly welcome the University of Glasgow's accreditation and their signing of the pledge. They are one of the city's most significant employers and their involvement sends a strong signal to the sector and the university sector that accreditation is both achievable and desirable."
Living Wage Gig
To date more than 370 firms in Scotland have become accredited, with Living Wage Week 2015 expected to further raise awareness in the public, private and third sectors. The increase has been calculated independently and set by the Living Wage Foundation in partnership with the Poverty Alliance.
There is a benefit event for the Scottish Living Wage Campaign, next Monday 9 November, 7.30pm at The Stand, 333 Woodlands Road, Glasgow. The line-up includes: Tom Stade, Scott Agnew, Marc Jennings, Rhona McKenzie and host Billy Kirkwood.
You can book on: 0141 219 3389.
See more here: www.thestand.co.uk/show/26762/scottish_living_wage_campaign_benefit
---
First published: 3 November 2015