Education secretary makes major speech at UofG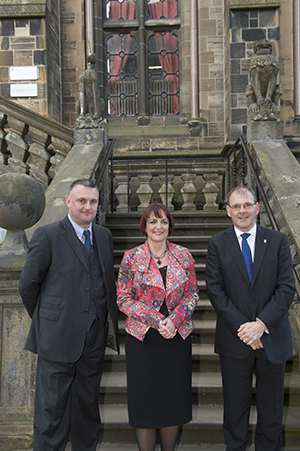 Poverty cannot be an excuse for failure in Scottish education. That was the key theme of a major speech delivered by the Cabinet Secretary for Education and Lifelong Learning Angela Constance at the University of Glasgow on Tuesday 19 May.
The event, organised by the Robert Owen Centre for Educational Change set out her aspirations for the Scottish education system, with a special focus on schools, and analysis of existing strengths and areas for improvement.
The Education Secretary was introduced by Senior Vice-Principal Professor Neal Juster who welcomed one of the University's most distinguished alumni back to Glasgow. This is the second time that Ms Constance has delivered a speech at her old University since she became Education Secretary in November 2014. ‌
Central to the speech, which was widely reported in the press and media, was the Education Secretary's commitment to raising attainment for all children.
"If we are to want for every child what we want for our own children, we need an education system that is fair and which provides excellence to every child irrespective of their background or circumstances.
"So let me be clear, in pursuing a shared ambition to ensure that education delivers every child the best opportunities to excel, nothing is off the table. Let me equally be clear that the teachers at that table will be fully-qualified and well-trained – and they must be joined by parents who feel fully-engaged and well-informed about how they and their children are being supported to realise their aspirations.

"In the six months since I was appointed Education Secretary, I have seen so many excellent examples of work in our schools, at a time when we have record exam results and a drop in those leaving school with no or few qualifications, record numbers of school leavers securing positive destinations and record proportions of Scots from the most deprived areas entering higher education. But we know that we can and must do more.
"It will never be acceptable for poverty to be an excuse for failure. Parents, teachers, academics, local and central government – all owe it to the children of Scotland – to rise to the challenge of inequalities that persists within our education system.
"We can and must no longer settle for good enough. We must aim high."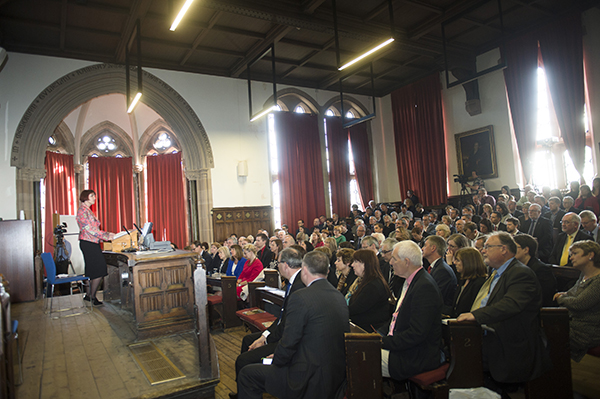 Professor Christopher Chapman, Chair in Educational Policy and Practice and Director of the Robert Owen Centre for Educational Change. Professor Chapman thanked the Cabinet Secretary for a very thought-provoking lecture before opening up to what proved to be a short but extremely lively question and answer session. This included a contribution from Professor Anna Dominiczak, Vice-Principal and Head of the College of MVLS who emphasised the successful work that is going on at Glasgow to recruit students with talent and ambition from all backgrounds, including into high-end professions such as medicine.
MSP Angela Constance speaking at the University of Glasgow
---
First published: 20 May 2015