Meet our inspiring people
Meet Mohammad Ali Salik, a laboratory technician in the School of Chemistry. Ali started at the University as a Modern Apprentice and three years later he is now a permanent member of staff.
Different route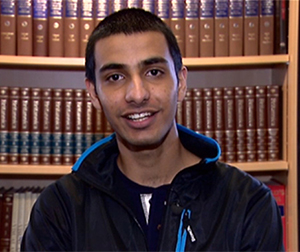 Ali always had an ambition to study at university and received offers to study from all five Universities he applied to. However when he was faced with the huge challenge of meeting the costs of university Ali knew he would have to find a different route to success.
Ali was born in Wick, Highlands and later moved with his family to Pakistan. In 2011 the family returned to Scotland. They moved to Falkirk, Stirlingshire where Ali sat his Scottish Higher exams achieving distinctions in Chemistry and Maths.
As he had not been living in Scotland for at least three years, Ali struggled to secure funding for a university place. He decided to reject the university offers and apply for the Modern Apprentice Scheme at the University of Glasgow.
Ali said: "At first I was disappointed that I could not go to university but I took a different path and it has worked out really well for me. The apprenticeship was a great way forward in my career."
The apprenticeship in Laboratory and Associated Technical Activities (LATA) involved practical on-the-job training and academic study.
During the apprenticeship Ali gained SVQ qualifications at level 2 and 3 and also a HNC in Applied Sciences. He achieved more than 90% in every assesement and regulary achieved 100%. He said he owes thanks to all his colleagues in Chemistry, Kim Wilson and Andy Monaghan who helped him with the course assessement.
The apprenticeship usually spans three years however Ali managed to complete it in less than two years and was quickly offered a permanent job within the School of Chemistry. By July 2014 Ali had even received his first promotion and now enjoys his current role of laboratory technician.
Working in the lab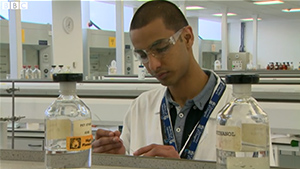 During term time, Ali's time is spent preparing laboratories for first, second and third year teaching. This involves setting up experiments and ensuring they run safely.
Outwith term time, Ali works in research and the current project he is involved with is 'highly confidential.'
He said: "I really enjoy both aspects of my job but I particularly like research. It's unpredictable and you can discover things that take you by surprise."
This year Ali has also designed and implemented a new work experience programme for pupils from schools across the country.
"I know the value of practical experience so I have designed a programme which I hope will inspire students to become involved with Chemistry. The students even receive a certificate once they have completed the programme."
Award nominee
Ali's enthusiasm during his apprenticeship did not go unnoticed. Last year he was nominated for the Best Apprentice Award from the Royal Society of Chemistry and received the runners up prize. This month he will be going to an award ceremony for the Trade House Best Modern Apprentice Award 2015 in which he is one of nine finalists.
Ali is taking his Mum and Dad with him to the ceremony as well as his line-manager Graham Tobasnick who he has to thank for the recommendation for nomination.
Despite changing his plans to go to university Ali has not given up his dream of gaining a degree. He spends most of his evenings and weekends studying for an Open Honours Degree specialising in Chemistry through the Open University. The University of Glasgow continues to support him with his studies by helping to fund the Open University course.
Passion for Politics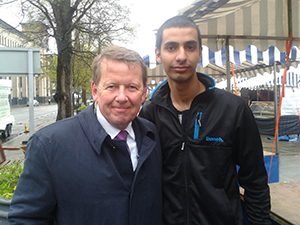 Along with chemistry, Ali has another passion in life – politics. This year he had the opportunity to be involved with the BBC's Generation 2015.
BBC Generation 2015 was a group of 200 handpicked 18- 24 year olds from across the country.
In the run up to the general election, the group appeared on a number of BBC programmes - and online - to offer their views on politics and to interview politicians.
Ali said: "It was great to be part of Generation 2015; it's not an opportunity you get every day. I think it is important that young people engage with politics and make sure our politicians are aware of the challenges we face."
Ali appeared on BBC Radio 1, BBC News, BBC Breakfast and a number of online platforms. For one of the news bulletins Ali was filmed working in the lab at the University.
Ali said: "It was fun to be filmed at work. The University is a great place to be and I would love to stay here and progress my career."
If you could have a superpower what would you choose?
I would like to have the power to immediately bring peace to the world, ending all terrorism and wars for good. I want this world to be a peaceful and safe place for everybody to live.
What one item would you grab if your house was on fire?
I wouldn't grab anything. My life is more important so I would just run out of the house. Safety first!
What is your favourite film?
I enjoy watching films and have a lot of favourites. One of my favourites is Harry Potter – it seems I'm working in the right place because the main University building looks a lot like Hogwarts.
Who at the University inspires you?
Watching the work of many of the academics in my department is inspiring. I particularly find those doing cancer research inspirational.
To find out more about the Modern Apprenticeship programme, contact Gillian Shaw.
---
First published: 15 May 2015