UofG's General Election
Last Thursday's General Election was both historic and ground breaking. As with the Independence Referendum, the University of Glasgow was at the very centre of the debate – with set piece events here on campus and academic comment and opinion carried by broadcasters and news outlets at home and overseas.
The Politics Society set the tone with the first, four-party leaders debate of the whole campaign. For those lucky enough to have a ticket the hustings in the QMU, featuring Nicola Sturgeon, Jim Murphy, Ruth Davidson and Willie Rennie provided an exciting foretaste of the drama to come.
As the campaign developed the expert views of University of Glasgow academics were sought by the press and broadcasters from BBC, ITV, Sky News and a host of foreign outlets on everything from the rise of the SNP to the importance of social media and issues from trident to austerity.
The University was also the sole Scottish location chosen by SKY News as they brought their voter-registration campaign Stand Up, Be Counted to the University of Glasgow, broadcasting across a whole day in mid-April.
Worldwide media attention was also sparked by the former First Minister Alex Salmond and the former UK Prime Minister Gordon Brown, both of whom delivered major speeches on campus as each was awarded an honorary degrees.
UofG personalities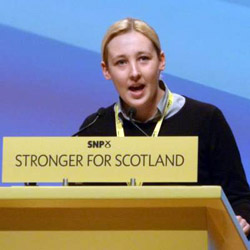 Last Thursday's historic election night put several people with University of Glasgow connections on centre stage, a reminder that our students are world changing and truly inspiring!
New MP Mhairi Black, who won Paisley and Renfrewshire South unseating Labour's Shadow Foreign Secretary Douglas Alexander, is now the youngest elected politician in Britain. She has been studying politics at the University and is due to graduate this summer..
Interviewed in today's Independent newspaper, Ms Black says: "I was asked during the campaign: 'What's the ultimate goal for you?' Genuinely, it's just in five years' time I can look at my home town and say that it is better than it was when I found it, then that'll be a success."
Angela Crawley, the new MP for Lanark and Hamilton East, is also a student at the University of Glasgow, doing an LLB as a second degree.
---
First published: 11 May 2015