CoSS trials augmented reality poster
An augmented reality (AR) poster has helped pre-honours Sociology students with their essay and exam writing skills.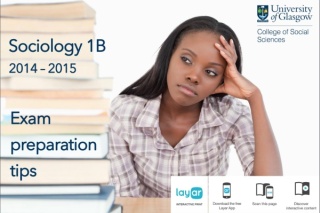 Dr Teresa Piacentini worked with the Learning Innovation Officer on developing an AR poster in order to support pre-honours Sociology students with specific study skills in an innovative way.
AR technology makes it possible to add digital content to real world objects. Upon being scanned by an AR application on a mobile device, an AR poster comes to life by seemingly adding elements such as video, images and sound to the real world around the poster as viewed on the device.
In this project, the poster showed a three minute video clip with helpful advice on succeeding in essays and exams. It interacted with the Layar application, which can be easily downloaded to any smart device.
"I was immediately struck by the simplicity of the idea and its potential to reach and interact with students in an innovative and exciting way."
- Dr. Teresa Piacentini
The poster was published in a very short timescale and advertised at the last Sociology 1B lecture and tutorials, as well as on the course Moodle. It managed to generate 132 interactions by a total of 43 users over five weeks.
According to tutorial feedback, students found the content helpful and liked the interaction and novel use of technology.
Dr Piacentini was pleased with the project and would support its development again. She has remarked that improved promotion planning will help to leverage its potential even better in the future.‌
For more information, please contact Dr Teresa Piacentini.
With acknowlegements to the CoSS Technology-Enhanced Learning and Teaching Newsletter.
---
First published: 11 May 2015