Changes to AllStaff email system
Changes are coming to the way the University operates 'All Staff' email messages.
In an effort to help ease the email burden that we all share, requests to send All Staff email will in future be directed in the first instance to the Communications Office. The internal communications team, Phil Taylor and Tasha Quinn, will advise on alternative means of advertising events and meetings. Communications Office can also suggest ways of placing important messages in front of University staff and students. AllStaff emailings are still likely to go out from time to time, but the aim is to reduce the overall volume and to target messages more precisely.
The process change is supported by the Court Office and Senior Management Group and will be in place from Monday 11 May. The MyGlasgow Staff and Student portals get considerable daily traffic and are a prime location for promoting events and messaging members of the staff and student communities.
The staff newsletter, Campus eNews, is now a weekly mailing usually published on Monday afternoons. It carries news items that are available 24/7 on the www.glasgow.ac.uk/staff/news pages.
‌MyGlasgow Staff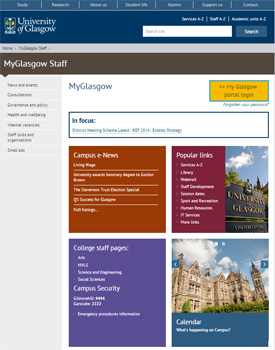 As you may have noticed, the MyGlasgow Staff portal has been further developed as a hub for all staff news, events and information.
The log-in for University business services, such as the IT Helpdesk and the HR Core facility, is located top right of the page. You will find all the latest University news clearly displayed together with popular links and links to the College home pages.
Every day on the news pages, you will find the latest University media mentions which include the main Scottish and UK newspapers as well as TV/Radio. Those listings are normally available by 1000 every weekday. We have retained a link to Archive Services' On This Day feature which highlights the University's 564 year history; in future our front page will also highlight the University's event calendar and significant multifaith and commemoration dates.
---
First published: 4 May 2015