University awards honorary degree to Gordon Brown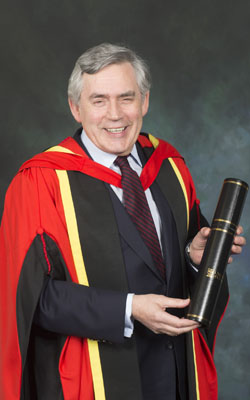 The former Prime Minister and Labour Party leader, the Rt. Hon. Gordon Brown, has been awarded an honorary degree by the University of Glasgow.
‌Shortly before the degree ceremony took place, in the Sir Charles Wilson Building lecture hall, Mr Brown delivered a 45 minute speech ranging over economics, politics and in particular, the current general election campaign. As with the recent ceremony honouring the former SNP leader Alex Salmond, the event attracted significant press interest with SKY News, BBC TV and reporters from several national newspapers in attendance.
The Principal and Vice Chancellor Professor Anton Muscatelli introduced Dr Brown who delivered a speech in which he first spoke of his friends the late John Smith and Donald Dewar and the strong connections he felt to the University of Glasgow. Like Alex Salmond during his honorary degree lecture, Dr Brown spoke of the importance of Adam Smith and how his works were still of great relevance to this day.
Social justice
With a week to go before the General Election Gordon Brown spoke of Scotland's place in an interdependent world - focusing on globalisation, the economy and social justice and the rise of political nationalism. He ended his address, which was delivered without reference to notes, on the need for a fairer society stating that, "It is an uphill battle but the battle is for the mountain top of social justice…. It is our duty to build a society where social justice is paramount."
Following the speech the Principal delivered the Oration in which he acknowledged Dr Brown's political career, his long standing interest in education and his commitment to the eradication of global poverty, stating that "In recognition of Gordon Brown's contribution to public and political life and for his continuing contribution to international development and work to address global challenges, I would now invite the Chancellor to confer on him, the honorary degree of Doctor of the University."
The honorary degree was then conferred on Gordon Brown by the Chancellor of the University of Glasgow, Sir Kenneth Calman.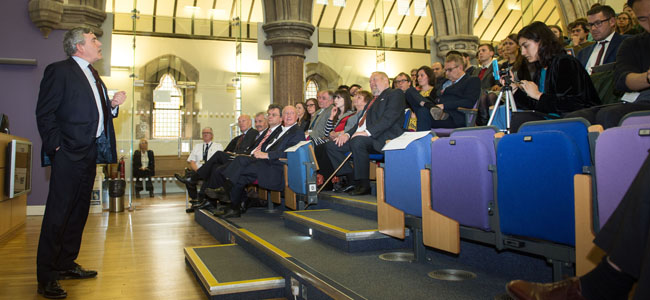 ---
First published: 5 May 2015