Cinema in the Quad
The University of Glasgow is teaming up with the Grosvenor cinema and the Glasgow Science Festival to bring outdoor cinema to the University's West Quadrangle.
This year's films have a sci-fi theme as part of the Science Festival programme with staff arranging some demos before the films.
Tickets are sale now for screenings of The Matrix and District 9 and are £10 each. All proceeds will go to the Paul O'Gorman Leukaemia Research Centre in Glasgow.
The Matrix: Thursday 4 June 2015
District 9: Friday 5 June 2015

Both films have a '15' rating and doors will open at 9pm for a 10pm start.
Events Manager at the University of Glasgow Clare Kidd said: "Last year's outdoor cinema events had a relaxed and fun atmosphere.
"People got to watch Chariots of Fire as part of the University's Commonwealth Games celebrations in the West Quadrangle under the stars.
"Cinema goers are also asked to BYOS (bring your own seat) and can enjoy a picnic whilst watching the film."
Tunnock's has very kindly agreed to support the event by providing every attendee with a caramel wafer!
However, cinema goers are asked to wrap up warm though in case our temperamental Glasgow weather chooses to act up.
If you have any questions, please get in touch with the Alumni Team on: +44 (0)141 330 7146 or email: alumni@glasgow.ac.uk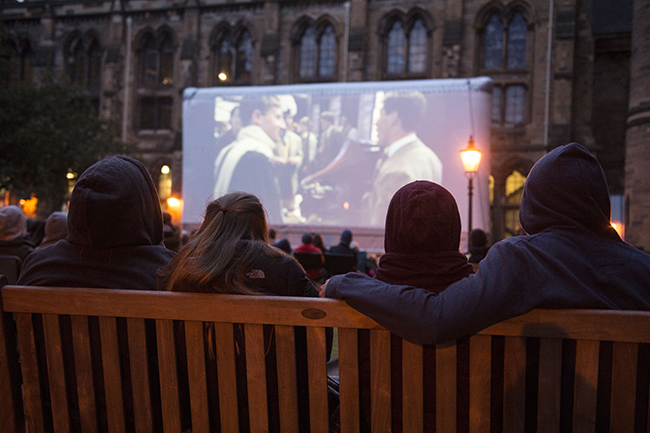 ---
First published: 28 April 2015