District Heating Scheme - latest
Updated Friday 27 March
From Monday 30 March the trenching works are being extended on the South Front in the direction of Pearce Lodge. Because of that, all parking on the road and lane will be suspended between the flag pole and the lane to the side of the James Watt South Engineering building. This will result in the loss of 35 spaces. Parking spaces in the car park in front of the Gilbert Scott Main Building will still be available via a single track roadway coming uphill from the direction of the Pearce Lodge Gate. This will be in place for approximately three weeks. Existing restrictions on the road on the South Front will remain in place. Some of the cable drums in Professors Square will have their contents removed this week for use in the trenchworks; soon afterwards those excavations will be reinstated and the area restored to normal.
The updated diagram March 30 shows the intended works. If you want to ask questions about the project, or raise concerns, please contact: communications@glasgow.ac.uk
The District Heating Scheme project is going to involve laying in the region of five and a half kilometres of new pipework across the University campus (both sides of University Avenue) over the next nine months or so. This is to replace the old system, which was more than fifty years old. In some cases, the new network will also help facilitate high voltage and IT cables to improve campus services.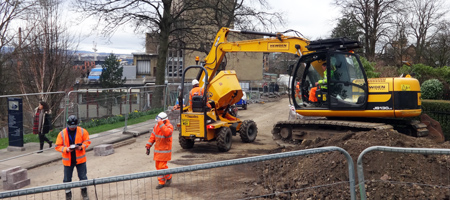 ‌Currently the digging work continues in the vicinity of Dumbarton Way/Gate, Science Way and the South Front. Works within University Place have temporarily halted but plans are in place to restart these shortly. One carriageway between University Avenue and a few metres east of the access to Forensics (where the Burger van is currently situated) will be closed. The area will be controlled by a traffic management scheme which will limit some parking in this area for the time being.
Decommissioned
The University's old main boiler house in front of the Davidson building has now been decommissioned and is no longer serving eleven, principal University buildings which instead have temporary steam boilers housed in the large containers you will see across the Gilmorehill site.
Eventually the new, energy efficient district heating system will serve 34 building plant rooms It will produce large savings in energy costs and help the University to achieve about half of its 20% carbon reduction target. The district heating network will eventually be powered by a Combined Heat and Power engine which will not only produce heat but will also generate electricity for the University.
The project is also being used as a learning and teaching resource for our students.
‌Our video gives you some more of the background
‌
---
First published: 23 March 2015