District Heating Scheme - latest
Published: 16 March 2015
Work on the University of Glasgow's District Heating Scheme continues: work within University Place have been temporarily suspended.
District Heating Scheme - latest
The excavation and construction work on the University of Glasgow District Heating Scheme continues in the vicinity of Dumbarton Way/Gate, Science Way and the South Front.
Works within University Place have temporarily halted but plans are in place to restart these shortly.
One carriageway between University Avenue and a few metres east of the access to Forensics (where the Burger van is currently situated) will be closed. The area will be controlled by temporary traffic lights and will prevent parking in this area for the time being.
Heating problems
Over the weekend there was some disruption to heating within certain buildings to allow permanent isolation of the existing steam mains. Heating has been restored to these buildings and any issues that may arise in the future will also be dealt with promptly.
Heating system turned off
The main steam boilerhouse that has been heating the University for nearly 50 years has now been turned off. Temporary systems are now in place and these will be providing heat to the buildings previously fed from the main steam boilerhouse whilst the project is taking place. By the end of summer 2015 period, the construction of the new energy centre should have been completed allowing buildings to be heated from the new plant.
Deliveries will not be affected.
Staff wishing to travel from Dumbarton Road Gate beyond Science Way will be unable to do so and should enter through the Main Gate or Pearce Lodge. Pedestrians will still be able to use the footpath.
The project is replacing the existing, fifty year old steam heating system with new technology that will serve most of the larger buildings with the Gilmorehill campus - both sides of University Avenue - and will produce large savings in energy costs and help the University to achieve about half of its 20% carbon reduction target.
The district heating network will eventually be powered by a Combined Heat and Power engine which will not only produce heat but can also generate electricity for the University.
You can download a Campus map indicating the trenching work and the expected dates for work to be carried out.
Teaching
The District Heating Scheme works are being used by the College of Science and Engineering as a learning and teaching resource. It's hoped that many opportunities will arise over the comings months to let students study the installation works in detail. One of the first opportunities came with test borings within the energy centre in preparation for the planned erection of a new chimney.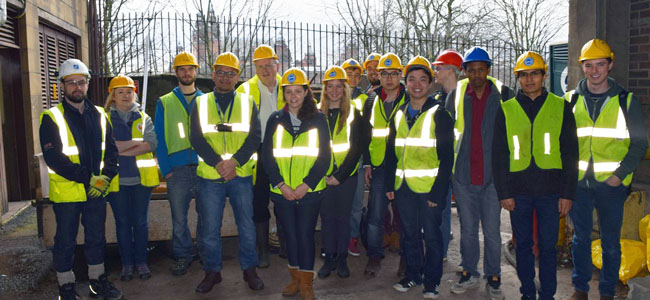 Our video gives you the background
‌
---
First published: 16 March 2015