UofG academic selected for Hematology program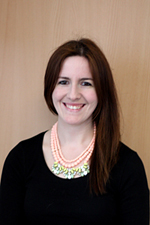 University of Glasgow research fellow, Dr Gillian Horne has been selected from candidates across Europe and America to take part in the 2015 Translational Research Training in Hematology (TRTH) joint program.
Horne is one of 20 early-career haematologists and the only participant from a Scottish University to take part this year.
TRTH helps junior scientists build successful careers in hematologic translational research through a rigorous year-long training and mentoring experience. It is a joint project between The American Society of Hematology (ASH) and the European Hematology Association (EHA).
Under the guidance of international leaders, participants learn the fundamental principles related to translational research.
The TRTH program will begin with a week-long course to be held in March 2015 that is designed to deepen participants' understanding of translational research methodology. The course will include didactic and interactive sessions and one-on-one faculty mentoring to provide participants with the opportunity to refine their research proposals.
Mentoring
After this initial course, participants will convene at the 2015 EHA Annual Congress, June 11-15 in Vienna, where they will attend small-group mentoring sessions. Finally, participants will present the status of their projects at the conclusion of the program at the 2015 ASH Annual Meeting, December 5-8 in Orlando.
President of The American Society of Hematology, David A Williams said:
"By honing critical skills, such as how to investigate the pathogenesis of hematologic disorders and how to design new diagnostic tests and therapies, TRTH participants are building a strong foundation for their careers in translational research.
"It is an exciting time to launch a career in hematology, and ASH is grateful to our partners and donors for their support of this program that is helping foster the next generation of translational hematology researchers. As a former faculty of this program, I appreciate the dedication to translational research of the trainees and also the unique opportunity TRTH provides these trainees to learn how to take science from the bench to patients."
TRTH is made possible by generous support from the Wallace H. Coulter Foundation and Incyte Corporation.
For more information Tranlational Research Training in Hermatology Programme Recipents.
---
First published: 19 March 2015