Meet our Inspiring People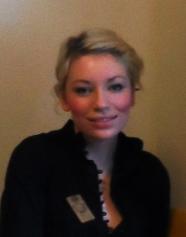 Meet Dr Emma Laurie, Teaching Assistant in the School of Geographical and Earth Sciences.
Emma has been at the University for ten years. She started off as an undergraduate geography student, progressed on to study for a Masters and PhD and is now teaching in the same department that she herself was a student in.
It was a trip to Tanzania during the summer of the third year of her undergraduate degree that inspired her to pursue a career in academia.
Fears
As part of the course 'Regional Geographies of Africa', Emma and her fellow students had the opportunity to spend three weeks completing research in Dar es Salaam, Tanzania.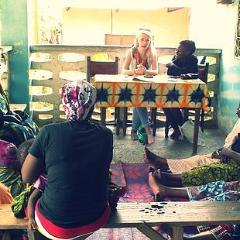 Emma nervously signed up for the trip with a friend. However her friend later pulled out of the trip.
Emma said: "My friend didn't tell me that he had decided not to go on the trip because he knew that I would pull out as well.
It wasn't until I had handed all the forms in that he told me. I didn't know anyone else that was going and I had so many fears and apprehensions about the trip."
Emma's fears quickly vanished when she arrived in Tanzania and she became fascinated by the research she was carrying out into malaria.
Emma said: "We were staying in halls of residence and I would come back each evening completely excited by everything I had learnt that day. I knew early on into the trip that it wouldn't be my last time in Tanzania. It really felt like the beginning of something."
Inspired by the trip, Emma continued her research on malaria during her postgraduate studies. She spent two months in Tanzania during her Masters year and even learnt to speak some Swahili during that time. The end of the first year of studying for a PhD took Emma back to the country for another two months. It wasn't long before she travelled back again to complete her main research project, this time spending four months in Tanzania.
We are more alike, my friends, than we are unlike.
Speaking about her research, Emma said; "My PhD involved looking into malaria and researching the social, economic and political factors that play a part in the lives of those affected by malaria.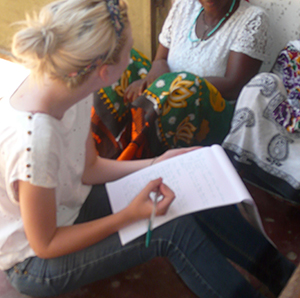 There is so much literature about how as a researcher you have to recognise the differences between people. There can be a lot of focus on differences.
Yet my whole thesis was about how health is a basic human right and that we are judging the value of lives differently in a way we shouldn't. Meeting people in Tanzania and hearing their stories made me realise although people can live in very different circumstances, we all have a shared humanity.
There is a Maya Angelo quotes that I love that sums it up- 'We are more alike, my friends, than we are unlike.'"
Completing her PhD and becoming 'Dr Laurie' after years of work was a highlight and relief for Emma. Her last stop before handing in her final thesis was to go back to Tanzania for two weeks to feedback the results of her research to the community that had shared their stories with her.
Emma said: " I felt it was important to go back and tell the people that had helped me what I had done with their stories. I'm happy I had the chance to go back and thank them because I wouldn't have a PhD without them I wanted the people I had interviewed to know I really valued them."
Emma has transitioned from student to staff and now spends her time in Glasgow teaching courses and coordinating tutorials. This year she designed and delivered a new course called 'Geographies of Development'.
She said: " Teaching the course was an amazing experience. It gave me the opportunity to give a full lecture on my PhD and that was a luxury. When you go to conferences you usually speak for ten minutes on your work. So it was a luxury to have a captive audience for an hour."
Next trip
Born and breed in Bishopbriggs in Glasgow, Emma felt having the chance to travel during the course, played a big part in her life.
Emma's days of field work trips are not over as she is teaching on the undergraduate Majorca class later this year.
She said: " Field work trips can play a big part for students and it's great to see the students benefit from the same experience I did. I like hearing students excitement about things I remember being excited about."
Paying it forward
Emma has found a real difference in going from student to teacher but feel she can still empathise with her students.
She said: " My memories of being a student are still fresh and when students are concerned about finals or dissertations I can really relate. I try to offer support and guidance for my students as the Geography department was so supportive to me as an undergraduate. It feels nice to pay it forward."
Quick Questions
What do you like to do when you are not at work?
At the moment, I'm learning to swim because I have never been able to swim. Last semester I took swimming lessons at the University sports centre. For the first time in my life, I was learning how to swim. It's been really fun to learn something from scratch. It's a chance to completely switch off from everything else because at that moment all I'm thinking about is trying not to drink half of the pool and try to get to the other end!
If you could have dinner with one famous person, living or dead, who would you choose?
I would love to meet Maya Angelou because I really like her work. I have a goal to read all her seven autobiographies and with my PhD finished I can read for pleasure now. I don't have to read with a pen in my hand anymore!
If you had to be an animal, what animal would you be?
I love elephants but I'm allergic to them. I found this out when I went to the circus as a child and every time the elephants came out my eyes started streaming. I would like to be an elephant but I might be allergic to myself!
Who inspires you at the University?
I'm inspired on a daily basis by so many people. The enthusiasm from my undergraduate students inspire me. Professor John Briggs has been influential to me as he taught the 'Regional Geographies of Africa' course when I was an undergraduate. That was the course that led to my first trip to Tanzania. Professor Jo Sharp was my undergraduate dissertation supervisor and was also involved in that trip and it was her that really encouraged and supported me to get PhD funding. They have both been hugely inspiring. It sounds cheesy – but that first trip with them to Tanzania changed my life. My postgraduate supervisors alongside Jo, Professor Mike Turner and Dr Heather Ferguson were also really inspiring and supported me in my career Sometimes as I walk into work I just think wow, how did I get here! I find the whole place inspiring.
Meet our Inspiring People: Do you have a colleague who inspires you? Let us know at communications@glasgow.ac.uk
---
First published: 16 March 2015