A history of pioneering graduates
Published: 3 March 2015
Since education at the University of Glasgow was opened up to women, there have been many amazing and pioneering female graduates to pass through the University's doors.
Since education at the University of Glasgow was opened up to women, there have been many amazing and pioneering female graduates to pass through the University's doors, writes Rachael Egan, University of Glasgow Archive Services.
Here are the stories of just three pioneering medical graduates:
Merbai Ardesir Vakil
Merbai Ardesir Vakil was the first female Indian graduate of the University of Glasgow, graduating MB CM in 1897.
Born in Bombay in 1868, Vakil graduated BA from Wilson College, Bombay, in 1888 then attended the London School of Medicine for Women.
She came to Glasgow's Queen Margaret College Medical School in 1893, just as the women's college was merging with the University.
After graduation she spent two years working as a postgraduate in Glasgow, before returning to Bombay to work in hospitals.
Dr Vakil left for Aden in 1927, (until 1937, Aden was ruled as part of British India) where she worked in Government service and private practice until 1941.
‌Elizabeth Ness MacBean Ross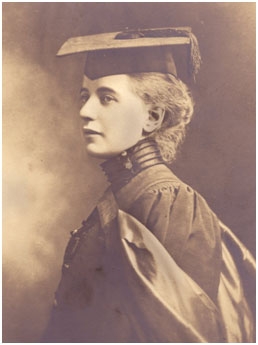 Elizabeth Ness MacBean Ross graduated from the University MB in 1901 and was one of the pioneers for a generation of determined and bright young women doctors who had to put an extra effort into acquiring their education in the face of many obstacles.
She won a number of class certificates during her studies and after graduating was made a Fellow of the Royal Society of Tropical Medicine.
She led a fascinating and very active life, working as a doctor in London, Persia and Serbia and also as a ship's surgeon, travelling to the coast of India and Japan.
She had many adventures in Persia where she was pleasantly surprised to find less discrimination towards female doctors. In fact it was said that she was made a chieftain of one of the tribes there!
During WW1 Elizabeth was invited by the Russian government to serve in Serbia as a doctor. She worked in a fever hospital there and unfortunately she contracted typhus fever herself and died on 14th February 1915.
Dr Elizabeth Ness MacBean Ross is the only woman to be listed on the original University of Glasgow WW1 Roll of Honour and there was a service in the University Chapel on 14th February this year, the centenary of her death, to remember her sacrifice.
Dr Elizabeth Ross's life and sacrifice are also commemorated on a brass plaque in St Duthus Church and in an annual service held in Kragujevac, south of Belgrade.
‌Ada Priscilla Nzimiro
Ada Priscilla Nzimiro (1923-1951) graduated MBChB from the University in 1950 and was the first woman doctor to work in the Igbo region of Nigeria.
Born in Nigeria, the daughter of a businesswoman, Nzimiro came to Glasgow in 1945 to study Medicine.
She graduated MB, ChB in 1950 and returned to Nigeria, becoming a pioneering female doctor.
Spanning the subjects
It was not only medical graduates who went on to become pioneers in their field with the first female Bachelor of Science graduate in 1898, Ruth Pirret, going on to greatly aid Nobel Prize-winning Frederick Soddy in his research into radioactive elements.
Janet Spens, an Arts graduate who graduated MA 1899, was the first woman to be awarded DLitt by the University (1910) and was a founder of Laurel Bank, the first school to be founded by Scottish women graduates.
More inspiring women
Find out about all of our female graduates to 1915 on our University Story website.
You can find out more about the world-changing women with historic connections on the University of Glasgow World Changing website.
You can also find out more about the history of women at the University on our University Story webpage.
This Flickr exhibition celebrates some of our female pioneers too!
For any enquiries about female graduates or our records charting the early education of women, please e-mail the Duty Archivist on: enquiries@archives.gla.ac.uk
---
First published: 3 March 2015