A history of educating women
The University of Glasgow was a pioneering institution in terms of women's access to higher education, writes Rachael Egan, University of Glasgow Archive Services.
An informal series of lectures for women by members of the University's staff had been in existence since the 1860s, largely at the instigation of Jessie Campbell, campaigner for higher education for women in Scotland. This initiative led to the establishment of the Association for the Higher Education of Women, chaired by Glasgow University's Principal, John Caird.
The secretary was Janet Galloway, another active campaigner for women's higher education. The Association organised a University Higher Local Certificate for Women aimed at establishing standards for women which would prove acceptable to the University of Glasgow.
It offered teaching as near as possible to that given to men in the Arts Faculty of the University, with lectures given in University classrooms and a rented space in St Andrew's Hall at Charring Cross.
The classes were organised on University lines and the subjects for the MA degree were taught and examined although women were not permitted to graduate until the Universities (Scotland) Act 1889.
T
he only college for women
Strong support from certain members of the Senate led to the opening of Queen Margaret College in 1884: the only college for women in Scotland.
Students were taught in the former North Park House, about half a mile from Gilmorehill, that had been gifted to the College by Isabella Elder, a keen promoter of higher education for women.
You will find Isabella Elder's name on the memorial gates outside the main building to commemorate her generous gifts to the University!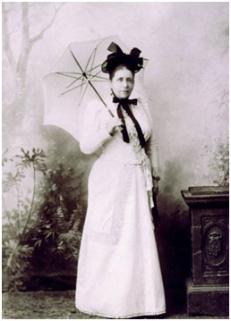 In 1888, the building was altered to provide laboratories for science teaching. By 1890, the number of students attending the college was about 200 with another 400 engaged in correspondence classes.
Petitioning parliament
The Queen Margaret Medical School then opened in 1890 and the students attended the Glasgow Royal Infirmary and the Maternity and Sick Children's Hospitals as part of their lessons.
The College throughout its history continually petitioned Parliament to allow women equal entry into universities.
Eventually, in 1892, the Scottish Universities Commissioners issued an ordinance empowering Scottish Universities to make provision for the instruction and graduation of women.
Female students were formally integrated into the University in 1892 and the first female graduates of the University, in 1894, were Marion Gilchrist, Alice Lilian Louisa "Lily" Cumming (m. Robson), Elizabeth Dorothea Lyness (m. Smith) and Margaret Cochran Dewar: the first women to receive a medical degree in a Scottish University.
The number of women matriculating steadily increased with numbers trebling between 1893 and 1905, reaching over 600 students in 1909 and 1,708 in 1929.
Female students eventually became completely amalgamated with the main University campus and the Queen Margaret College was finally closed in 1934.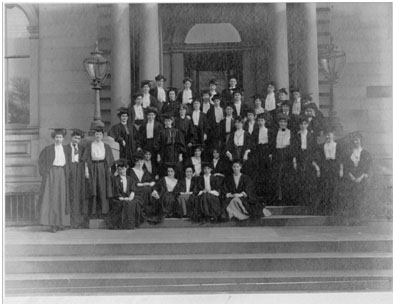 ---
First published: 3 March 2015