French Ambassador urges closer cooperation
The French Ambassador to the UK has told University staff and students and invited guests that Britain and France – once described as "sweet enemies" - must cooperate if they wish to be players on the international stage.
Madame Sylvie Bermann delivered a lecture on "The Strategic Partnership between France and the UK" during a visit to the University which included a tour of the Hunterian Museum.
Madame Bermann, who was appointed to the UK role in 2014, previously held the post of Ambassador Extraordinary and Plenipotentiary in Beijing from 2011-14.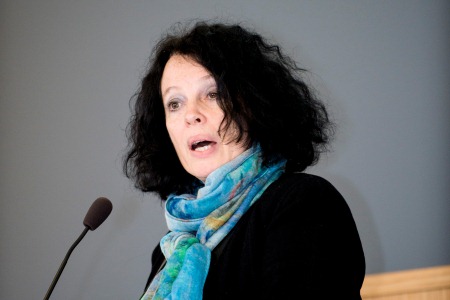 Welcomed to the University by Professor John Briggs, Vice Principal and Clerk of Senate, she told her audience that Britain and France needed to reach "the necessary critical mass" in order to make their voices heard in the international arena.
"They also need to retain a voice that is distinct from their other partners. This is why cooperating closely in multilateral institutions matters so much. To that end, the European Union is of paramount importance for both Britain and France, especially when NATO is not involved."
Britain and France were already "similar partners with similar ambitions, facing similar challenges in a similar context", she said.
"They are the only two powers in Europe which both have economic, demographic, cultural and military assets in Europe and in the world. Yet they are powers which do not reach a critical mass any more," said the Ambassador.
"My experience as Ambassador in China showed me that the future of international relations lies in continent-countries such as China, India and the United States. For the Chinese, Britain and France are not economically relevant; they look to Europe as a whole. Therefore, for France and the UK, existence requires cooperation," she added.
The two nations had "similar ambitions" – they were both democracies which valued human rights and wanted to promote them on the world stage; had a "similar context" in that they were constrained by limited budgets which restricted their ambitions in terms of military industries and human resources; and faced "similar challenges" in terms of the USA's pivot to Asia and the dangers posed by terrorism, Madame Bermann said.
NATO was also of paramount importance because of its well-known structure and its wealth of operational experience, added the Ambassador.
"This is why the French decision to join NATO's integrated command in 2009 was a clear signal – for NATO allies and the US but also for the UK – of France's commitment to any institution that serves the right cause on the world stage. In today's context, NATO's role is crucial as a deterrent to Russia, as the Cardiff Summit in 2014 showed. During that summit, France and Britain endeavoured to build a Very High Readiness Joint Task Force to reinforce NATO's posture following the Ukraine crisis," she said.
Cooperation between Britain and France was by no means exclusive, she said. The "special relationship" between the UK and the US represented an opportunity for France; and France's special role in Europe's defence was also an opportunity for Britain.
Nevertheless, Britain's and France's roles had clearly changed: instead of shaping a passive world, they had to "project their voices in a changing world which no longer waits for them to make the first move", she concluded.
---
First published: 27 February 2015