Prof Calder appointed to advisory board
The Advisory Group of eight leaders bringing expertise from research, academia and industry who will support Sir Paul Nurse in his review of UK Research Councils has been announced by Universities, Science and Cities Minister, Greg Clark.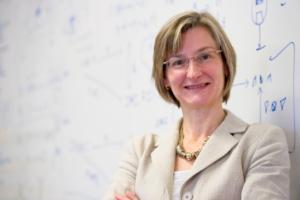 The 'Nurse Review' will look at how the research councils, who invest around £3 billion Government funding per year, can work most effectively.
The UK is a world leader in science and innovation. As well as breaking barriers by trying to find a cure for cancer or producing driverless cars, our research base creates jobs across the country. The Government wants to ensure we continue this success, so Sir Paul Nurse has been asked to recommend how we can stay ahead.
Those who will make up the review Advisory Group are:
Professor Lord Sushantha Kumar Bhattacharyya Kt CBE FREng FRS: Professor and Chairman of the Warwick Manufacturing Group. Lord Bhattacharyya was one of the founding members of the Prime Minister's Council for Science and Technology. He is an advisor to many governments and manufacturing companies worldwide on matters of science and technology.
Professor Muffy Calder OBE FRSE FREng: Vice-Principal and Head of the College of Science and Engineering at Glasgow University, and formerly Chief Scientific Adviser for Scotland.
Professor Sir David Eastwood DL FRHistS: Vice-Chancellor, University of Birmingham and Chair of the Russell Group. Sir David is a former Chief Executive at the Higher Education Funding Council for England, and former Chief Executive of the Arts and Humanities Research Board (now the Arts and Humanities Research Council). He is a Board Member of Universities UK.
Dame Janet Finch DBE, DL, FAcSS: Honorary Professor of Sociology at the Morgan Centre for Research into Everyday Lives, University of Manchester. Previously Dame Janet was Vice-Chancellor at Keele University.
Dr Paul Golby CBE FREng: Chair of the Engineering & Physical Sciences Research Council. Previously Dr Golby was Chief Executive of E.ON UK. He is a member of the Prime Minister's Council for Science and Technology, Chairman of Engineering UK and Chairman of the Board for NATS.
Professor Ottoline Leyser CBE FRS: Professor of Plant Development and Director of the Sainsbury Laboratory at the University of Cambridge. Professor Leyser chairs the Royal Society Science Policy Advisory Group and until recently was Deputy Chair of the Nuffield Council on Bioethics.
Professor Molly Stevens FREng FIMMM FRSC FRPharmS FSB: Professor of Biomedical Materials and Regenerative Medicine in the Department of Materials and Department of Bioengineering at Imperial College London, and the Research Director for Biomedical Material Sciences in the Institute of Biomedical Engineering.
Professor Terry Wyatt FRS: Professor of Physics, School of Physics and Astronomy, University of Manchester. Professor Wyatt works on the ATLAS particle physics experiment at the CERN Large Hadron Collider and is a member of the Scientific Policy Committee of CERN.
Greg Clark, Minister for Universities, Science and Cities said: "The UK's science base is extraordinary – our cutting edge research base is world leading, our universities are world-class, we develop and attract the world's brightest minds and we are second in the world when ranked by Nobel prizes.
"To maintain our advantage, and following the recommendations of the triennial review, we have asked Sir Paul Nurse to lead a review of the Research Councils in order to build on their firm foundations and ensure we continue to maintain and promote research excellence.
"I am delighted to announce today the membership of the advisory group for the Nurse review. The members between them cover a strong and diverse mix of skills, disciplines and experiences and will make valuable contributions to the review."
Sir Paul Nurse, Chair of the review, said: "The aim of the Research Councils review is to look at overall questions relating to UK research funding, and build on the findings of the recent more focussed triennial review. The aim of this review is to ensure that the UK continues to support world-leading science, and invests public money in the best possible way.
"The advisory group membership announced today will bring a rich range of expertise and experience to this task, and help guide the review towards the right conclusions; I look forward to working with them.
"It is very important that the review takes account of the widest possible range of evidence and viewpoints. As such there will be an open call for evidence, and in addition to the advisory group I am also looking to build a wider reference group of representatives of major stakeholders, international researchers and others which we can use to test our emerging thinking."
There will be an open call for evidence, and details will be announced shortly.
Sir Paul is also forming a wider reference group, which will include international expertise, to help test the review's emerging thinking. Research Councils UK, Universities UK, Innovate UK, the Russell Group, and the Universities Alliance will also be asked to nominate representatives to join the reference group.
---
First published: 26 February 2015