Graduates: 100 years ago
This week summer graduation begins, with graduates from the College of Arts receiving their degrees on Thursday 25 June and the School of Law and Adam Smith Business School graduating on Friday 26 June.
To celebrate these graduations, let's take a look at some MA (Master of Arts) and BL (Batchelor of Law) graduates from 100 years ago, writes Rachael Egan, Heritage Engagement Officer.
Janet Kennedy Robertson
Janet Kennedy Robertson (nee Gartshore) graduated MA from the University in 1915.
She was born at Brownsville, Jamaica, daughter of Reverend John Gartshore, a missionary of the United Free Church of Scotland.
Janet enrolled at the University in 1911, taking courses in Geography, English, Logic, French and German, the latter two subjects to honours level.
Returning to Jamaica, 'Jenny Gartshore' became the first headmistress of the Jamaica St Andrew High School for Girls, creating the school's motto "Life More Abundant".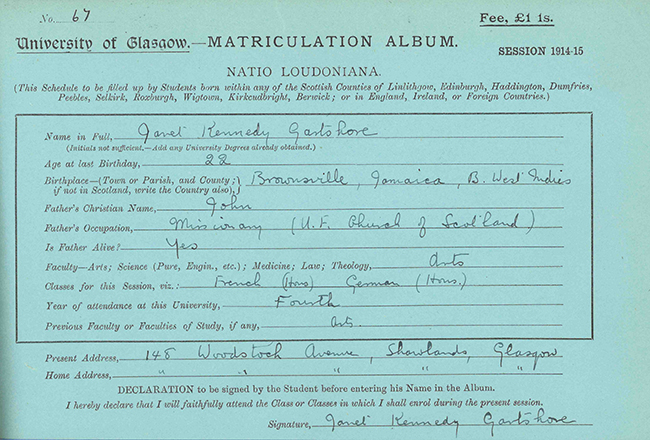 Professor Alexander Macbeath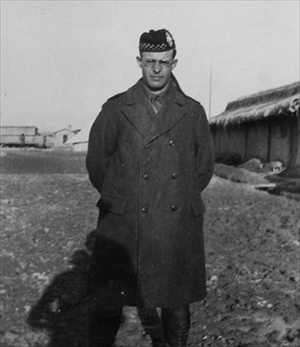 Another illustrious MA graduate of 100 years ago is Professor Alexander Macbeath, CBE.
Alexander Macbeath graduated from the University of Glasgow with an MA in 1915.
He was born in 1888 in Applecross, Ross-shire and he was a fluent Gaelic speaker. He studied subjects such as Moral Philosophy and Logic and received a variety of prizes including a first class certificate of merit in Logic and Metaphysics as well as the Alexander Smart Memorial Prize.
Alexander Macbeath also served as a soldier in WWI during his studies.
Alexander received a lectureship in Moral Philosophy at the University of Glasgow in 1920 and in 1923 he was appointed senior lecturer of Logic and Metaphysics at the University of Glasgow.
Macbeath was heavily involved in the field of social services and was secretary to the Council of the Glasgow Charity Organization Society in 1919 and at Belfast he served on the Council for Social Welfare for 27 years.
He was also a prominent member of the Council for Civil Liberties. His service to the community in Northern Ireland was recognized in his appointment as a Commander of the Order of the British Empire (CBE) in 1953.
Jame Ewart Kennedy Cook
James Ewart Kennedy Cook, born in Kilmarnock in April 1889, graduated with a Bachelor of Law degree from the University of Glasgow in 1915.
Studying in Glasgow from 1912 to 1915, James took classes such as Civil Law, Law of Scotland, International Private Law, Forensic Medicine, Conveyancing and Evidence and Procedure.
His academic career was prosperous, with James winning multiple prizes including First Class Certificates in Evidence and Procedure and Forensic Medicine, Honours in Scots Law, and a Distinction in Conveyancing.
Following graduation, James went on to work as a Law Clerk and later a Writer in his hometown of Kilmarnock.
In honour of the summer graduation season 2015 we have uploaded profiles for all of the 484 University of Glasgow graduates from 1915 onto our University Story Webpage.
Congratulations to all graduates this week!
---
First published: 22 June 2015