Two appointments for Critical Studies
The School of Critical Studies, University of Glasgow has just announced two major appointments to work with its flourishing Creative Writing team.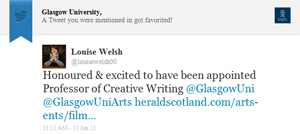 Louise Welsh joins the School as Professor of Creative Writing. Louise graduated from Glasgow with an honours degree in History, and later took a MLitt in Creative Writing from the Universities of Glasgow and Strathclyde. Since her debut novel, The Cutting Room (2002), her books have achieved world-wide acclaim, being translated into some twenty languages.
Her most recent works are A Lovely Way to Burn and Death is a Welcome Guest -- the first two novels in her Plague Times trilogy -- and the full-scale opera The Devil Inside, composed by Stuart MacRae with a libretto by Louise: a highlight of Scottish Opera's 2015/16 season.
'Fantastic'
Colin Herd has been appointed to a Lectureship in Creative Writing, with special reference to poetry. Colin graduated from Edinburgh with a first-class Honours degree in English Literature, and then proceeded to a PhD in 2014; he subsequently directed the Sutton Gallery, Edinburgh. His most recent collaborative ventures, Oberwildling (with S.J.Fowler, 2015) and Open Wound (with Cat Outram, exhibited at the RSA in 2015), follow on from earlier collections including Glovebox (2014), Like (2011) and too ok (2011).
Professor Jeremy Smith, Head of the School of Critical Studies, said: 'This is absolutely fantastic news, and a real sign of the vigour and attractiveness of Creative Writing at Glasgow. We are truly delighted that Louise and Colin have been able to join us.'
Dr Vassiliki Kolocotroni, Head of English Literature, said: 'This is a coup for Glasgow. Louise and Colin will bring extra energy to our creative and critical community and help ensure that this distinguished programme remains at the cutting edge.'

http://www.louisewelsh.com/
http://www.colinherd.com/
---
First published: 15 June 2015