News and events round-up
Objects of research
Kelvingrove museum will host a temporary exhibit dedicated to the University of Glasgow's work which launches on the 28 of September.
Organisers of the exhibit are looking for research related objects: tools, inspiration, products or symbolic.
This is your chance to have your work displayed in the most visited museum in the UK outside of London.
Kelvingrove has over a million visitors every year and this is your opportunity to have your work displayed alongside Rembrandt, van Gogh and Dali.
If you have an object which may be suitable or would like more information, please get in touch Jamie.gallagher@glasgow.ac.uk
Meet the Expert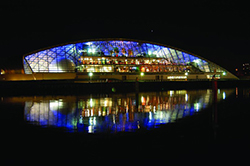 Glasgow Science Centre is looking for researchers to share their work with the public during the busy summer holiday period.
The first weekend of activity will be the 4-5th July and the second on the 1-2nd August.
They are looking for interactive table top activities.
To book a slot or for more information please get in touch Jamie.gallagher@glasgow.ac.uk
---
First published: 27 April 2015