Meet our Inspiring People
Published: 27 July 2015
The University of Glasgow is a place where people inspire people to change the world. This regular feature celebrates our vibrant community of our own inspiring people. Meet Dr Elaine Malcolmson.
Meet Elaine Malcolmson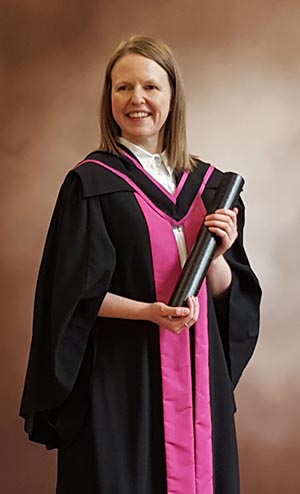 Meet Dr Elaine Malcolmson, she is a library assistant and examination invigilator with a funny bone.
Elaine's day job involves helping staff and students to use the library – assisting with finding books, checking them in and out and sourcing books from other libraries. She also invigilates exams during the busy summer examination period and for re-sits in August.
Solo at the Fringe Festival
She is sure to keep her University of Glasgow colleagues amused as in her spare time she is a stand-up comedian. She has been performing comedy part time for six years and this year she will have her first solo show at the Edinburgh Fringe Festival.
Her show at the Fringe is called Arrangements and is a dark, uplifting, twisty tale. As she is originally from County Down, Ireland she has also secured a spot in the 'Best of Irish' show which is a stand up show featuring all Irish comedians. Elaine says she is expecting 'a rowdy audience and Irish craziness.'
Although 'Arrangements' is her first solo show, Elaine has performed at the Fringe before in multi act gigs, sketch shows and as part of a double act.
Elaine said: "There is a great camaraderie at the Fringe; everyone looks out for each other. I love to go and see lots of shows while I'm there and it's a great chance to meet up with friends I haven't seen in a while."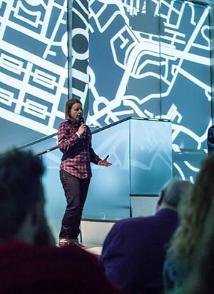 Most people would get nervous standing in front of a crowd to perform comedy and might be afraid of hecklers but Elaine can handle her nerves and the hecklers.
She said: "I do get nervous sometimes but I just try not to think about what I'm about to do and that seems to calm me down. Hecklers do raise their heads now and again, it's important not to let them ruin a show for everyone else. Sometimes dealing with hecklers can be as simple as pointing out how ridiculous what they are saying is."
I was free on Tuesdays
‌Her comedy career started when she was working at Strathclyde University in a recruitment role for Science and Engineering. Staff were encouraged to take part in an evening class and Elaine chose stand-up comedy.
Elaine said: "I chose stand-up because the class was on a Tuesday evening and I was free on Tuesdays!"
The classes culminated in a show at the end of the course. At first she had planned to skip performing, but after bonding with her classmates Elaine decided to give it a go.
"I thought I should do the show as I might never get the chance again. So I did it and I haven't stopped!"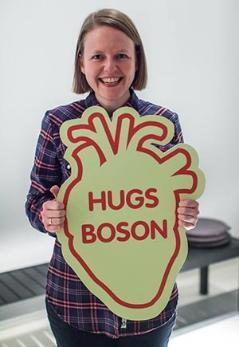 Studying at Glasgow
Elaine first moved to Glasgow from Ireland to study for an undergraduate degree in Physiology and Sports Science at the University of Glasgow.
After leaving University, she worked at the Science Centre in Glasgow; here she discovered a passion for educating the public about science and moved to Cardiff to complete a Masters in Science Communication.
On returning to Glasgow she worked at the University of Strathclyde for five years before returning to the University of Glasgow to undertake a PhD in communicating science. Elaine started her role in the library while working on her PhD. She completed the PhD this year and graduated in June.
Elaine said: "Science and engineering are too important to be left to scientists alone. Good communication is key to bringing people closer to science and to getting people involved in science."
Standard issue
Elaine also puts her communications talents to use by writing for online magazine Standard Issue.
The magazine was set up by comedian Sarah Millican and is described as a 'smart and witty online magazine for women by women.'
Elaine met Sarah Millican on the comedy circuit and when Standard Issue was born, Sarah asked Elaine to write for it. So far Elaine has penned articles for the Arts and Lifestyle section of the magazine and hopes to write more now that she has finished her PhD.
Living in Glasgow
With writing and planning her comedy shows in the mornings and working in the library in the afternoon, Elaine is kept busy. However she still makes time to enjoy Glasgow.
She said: "I'm from a small town so there wasn't a lot happening and then I moved to Glasgow and there was always something going on. The fact that you can go to see a band or a show or visit a museum every night of the week is still a novelty for me even though I have been here for years!"
Quick Questions:
If you could have a superpower what would you choose and why?
I would pick the ability to teleport. It would be really handy to be able to get from A-B quickly, especially when A is Glasgow and B is Edinburgh.
What job did you want when you were a child?
I liked art at school particularly the design side of the subject so I wanted to be a graphic designer. I have gone down a completely different route!
What one item would you grab if your house was on fire?
I would be really prepared and have a backup of all my files on an external hard drive that I would keep in a fire proof box near the door. It would have all my photos, writing, videos, music and important files in one box. That might be a bit of a cheat answer - I would never be that organised!
Who inspires you at the University?
Professor Neal Juster: I worked with him at the University of Strathclyde and he was very forward thinking in terms of encouraging people into science and engineering. Also Professor Neil Spurway taught me during my undergraduate degree and he was a great lecturer. He would do things like jog home at lunchtime to pick up a book that a student was interested in reading and jog back to give it to them. He had a tradition of throwing a party for the honours students. By my year there were nearly 100 of us and he invited us all to his house for a party – that is really looking after your students.
Elaine's top Fringe Festival recommendations
Going to this year's Edinburgh Fringe but not sure what shows to watch? Here Elaine gives her top comedy picks for the Festival:
---
First published: 27 July 2015