Patient–empowered precision medicine
Trades House Lecture - 9 July
Date: Thursday 9 July 2015
Time: 18:00 - 20:00
Venue: Kelvin Gallery, Main Building
Speaker: Professor Anna Dominiczak
The University of Glasgow is delighted to host this year's Trades House Lecture on Thursday 9 July. This year's speaker is Professor Anna Dominiczak, Regius Chair of Medicine and Vice-Principal and Head of the College of Medical, Veterinary and Life Sciences.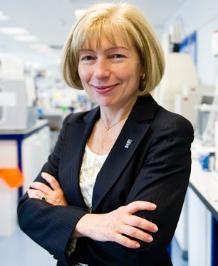 The Trades House Lecture
The Trades House Lecture is an annual lecture that explores issues surrounding the welfare of Glasgow and its citizens. Previously hosted by The University of Strathclyde and Glasgow Caledonian University, previous topics have included the impact of the Commonwealth Games on Glasgow, the city's place in the global economy and insights into Glasgow's industries and their buildings. This year's lecture focuses on Glasgow's unique position in the field of stratified medicine.
‌Patient–empowered precision medicine: Glasgow's USP
The future of healthcare is about getting the right treatment to the right patients at the right time through stratified or precision medicine. Stratified or precision medicine involves examining the genetic makeup of patients in their differing responses to drugs designed to treat diseases such as cancer, heart disease or arthritis. By building up an understanding of the "strata" of responses we will create more personalised and effective forms of treatment for groups of patients most likely to benefit.
We have developed a strategic partnership between academia, NHS and industry to transform management of chronic diseases globally by accelerating biomedical research, high quality health care provision and economic growth. The unique combination of the electronic health records, new advances in DNA sequencing as well as volunteering by Glasgow patients place Glasgow at the cutting edge world-wide.
Register Online
The event is free but pre-registration is required. To book your tickets online please visit:
www.tradeshouselecture2015.eventbrite.co.uk​
The lecture is being held at the Kelvin Gallery in the Main Building and will start at 6pm, with doors opening at 5.30pm. Tea and coffee will be served after the talk and free car parking is available on campus after 5pm.​
---
First published: 5 July 2015