UofG represented at U21 Research Conference
Three undergraduate students together with Dr Bethan Wood (Senior University Teacher, School of Interdisciplinary Studies) attended the Universitas 21 undergraduate research conference held the University of Auckland in New Zealand this month.
The students: Shona MacKinnon, Bibi Schwithal and Ross McFarlane presented posters and papers to an audience of nearly 60 students and academics.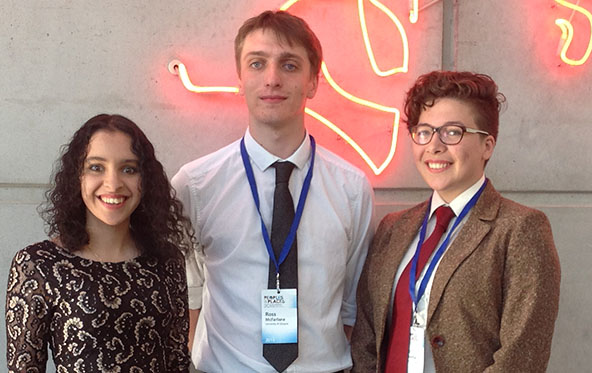 This year's theme for the conference was 'People and Places'.
Shona presented on the subject of issues surrounding the health of asylum seekers and refugees in Glasgow. Bibi's poster detailed the use of hashtags in online activism and Ross presented on Rawlsian circumstances of justice - future people in broken worlds. Dr Wood said: "The U21 Undergraduate Research Conference is an excellent opportunity for undergraduate students to present their research to other students from around the globe. Students attended from a variety of universities in the U21 network, including those in Singapore, Australia, Canada, China, the Netherlands, and from Glasgow, Edinburgh, Birmingham and Nottingham.
"I thoroughly enjoyed my time at the conference in Auckland and would recommend it to any member of the University's staff"
"Our students presented on a diverse array of topics including asylum seekers, hashtags in online activism and Rawlsian theory.Staff and students at the conference were very impressed with the confidence and professionalism of Shona, Bibi and Ross - so many congratulations to the three of them.
The University of Glasgow is a founder member of Universitas 21, an international association of research-based universities committed to working together to enhance their status and capabilities."I thoroughly enjoyed my time at the conference in Auckland and would recommend it to any member of the University's staff to become involved in either the U21 summer school or the research conference next year."
---
First published: 21 July 2015