University of Rwanda Calendar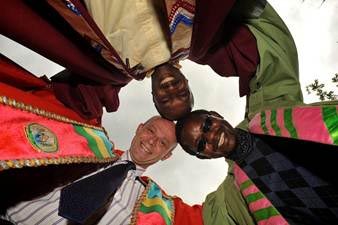 A calendar, created by Professor Phil Cotton with his colleagues and students in Rwanda is now on sale.
Professor Phil Cotton is on secondment from his post in the School of Medicine at the University of Glasgow and is serving as Principal of the College of Medicine and Health Sciences at the University of Rwanda.
The University of Rwanda is the only provider of doctors in the country.
It is Professor Cotton's ambition is to create the highest performing graduates of any university in East Africa.
The sale of the calendar goes towards raising funds for the student hardship fund to support students at The University of Rwanda.
Professor Cotton said: "If 10 students have to slow up or suspend their studies, then we will end up producing fewer doctors than this country should be getting. I'm determined that we keep the numbers up at graduation. Because of this, student welfare here takes on a completely different kind of meaning than it did in Glasgow."
He continued: "Many of my students are poor and recently I have heard stories of them fainting in class and on placement, simply because they cannot afford to feed themselves more than once a day. Many of the affected students come from survivor families and don't have personal support networks."
This is the first time Professor Cotton has created a calendar to raise funds to help his students. The fun calendar features images of Phil, his colleagues and students.
Calendars costs £7 for staff and £5 for students. Orders can be placed by contacting glasgow-rwanda-connection@glasgow.ac.uk . Postage costs apply.
Alternatively, they can be purchased from:
The Wolfson Medical School Library, Level 3
The University Gift Shop
GPC Office, 1 Horselethill Road
Any student who is part of the groups: Students for Rwandan Medics (STORM) or Aid for Rwandan Medics (ARM)
Recycle your old laptop
Another way you can help educate Rwandan medical, nursing and allied professionals is by donating your old laptop.
Professor Cotton is seeking laptop donations to give to students in the College of Medicine and Health Science in the University of Rwanda to aid their studies.
If you have a laptop to donate, please hand the laptop and lead to the janitors in the Wolfson Medical School building at the reception desk.
Before you donate, check it has none of the following: hardware problems, broken screen, poor power connections and any other disabling problems.
The University of Glasgow IT Services will wipe and re format your hard drive before sending it to Rwanda.
For more information, contact glasgow-rwanda-connection@glasgow.ac.uk
---
First published: 14 January 2015