Jimbaran Consortium Workshop
Background on the Jimbaran Consortium:
In April 2013, the University of Glasgow hosted six Vice-Rectors from Indonesian universities (University of North Sumatera, Udayana University, Cendrawasih University, University of Sam Ratulangi, Jember University, and Andalas University) for a Higher Education Leadership training programme, funded by the British Council and hosted by the Glasgow School of Education. Following this visit, ongoing discussions and meetings in Indonesia took pace which led to the creation of a Consortium between Glasgow and the six universities. As a result, the Jimabaran Consortium Agreement was signed in January 2014.
The Jimbaran Consortium Workshop: 22 January 2015, Jakarta:
All six consortium universities were present for this workshop, including the Vice-Rectors from three of the consortium members. The aim of the workshop was to bring all the consortium partners together to:
discuss further developments in relation to collaboration on Tourism, and
to begin discussions on collaborative opportunities in Water and Environmental Management.
In the second part of the workshop, discussion focused on developing an activity plan for both areas of research and action points for future activities in 2015/16.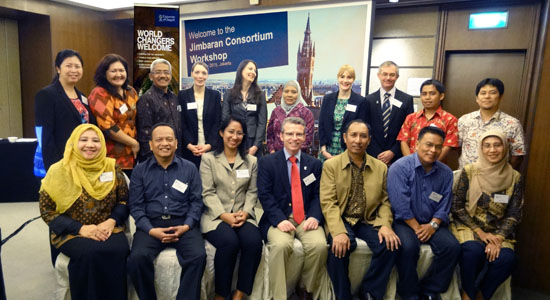 ---
First published: 3 February 2015