News and events round-up
Kilifi Kook Book
University of Glasgow Professor, Paul Garside recently spent 6 months in Africa. During his time in Kilifi, Kenya he stayed at 25 Bofa Road, a residence which was staffed by Joseph and Jacqueline, writes Alexandra Mackay.
It turned out that Joseph had previously worked as a cook for the Mayor of Mombasa and was not only an experienced cook but also had a great set of unwritten recipes. This coupled with the fact that Jacqueline's husband is a fisherman, meant that there was some wonderful food to be enjoyed. We thought it was worth sharing some of their great recipes!
Thus the Kilifi Kook Book was put into production. The first edition is now available priced only £3.00 and can be purchased from Alex Mackay.
The funds raised from the sale of the Kilifi Kook Book will be used to support charities in Kilifi.
Marshall Scholar
The University of Glasgow has attracted a prestigious Marshall Scholar.
Founded by a 1953 Act of Parliament, and named in honour of US Secretary of State George C Marshall, the Scholarships commemorate the humane ideals of the Marshall Plan and they express the continuing gratitude of the British people to their American counterparts.
Marshall Scholarships are mainly funded by the Foreign and Commonwealth Office and are overseen by the Marshall Aid Commemoration Commission. The Secretariat is provided by the Association of Commonwealth Universities. In the US the selection process is managed by the regional Consulates General in Atlanta, Boston, Chicago, Houston, Los Angeles, New York and San Francisco, and in Washington DC by the British Embassy.
Glasgow's Marshall Scholar is Dahlia D'Arge from the University of Kentucky.
More here: Marshall Scholarships website
‌Wellcome Trust Leadership Programme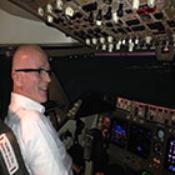 Professor Andy Waters, Director of the Wellcome Trust Leadership Programme (WTCMP) recently attended a leadership course which involved landing a plane at Heathrow airport in a flight simulator.
The leadership course is aimed at refining senior Wellcome Trust funded researchers management and leadership skills.
The week long course was held in London, with a follow up week being held in Boston in March.
This is the second year that the Wellcome Trust have staged the course with the help of course facilitators Deloittes.
Professor Andy Waters said "This has proved to be a wonderful opportunity to gain insights into how passion, vision, innovation and delivery can be combined with the goals of enterprise to produce high performance and commitment. I think WTCMP already has many of these attributes and hopefully the course will enable me to improve as Director. It was also a lot of fun sharing this experience with a group of scientists at many different stages of their careers and I probably learned just as much from them."
---
First published: 26 January 2015