New Avenue is online
Avenue 59, the January 2016 issue of magazine for alumni and friends of the University, is online now.
In this issue‌
‌
‌Dumbbells and dancefloors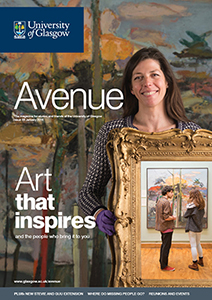 Graduate Mark Beaumont and the Presidents of GUSA and GUU talk about what the new extension means to them. Read more ...
Are you inspired by art?
History of Art graduates and curators at The Hunterian talk about the inspiring art and artists they've worked with. Read more…
Why do people go missing?
And where do they go? Our researchers are helping to improve how the police relate to missing people.
Read more…
Mhairi black MP
Our Young Alumnus of the Year talks about her studies, getting into politics and dealing with media attention. Read more…
News
Blogs in brief: an intro to our academic blogs network. Read more…
Postgraduate student, Kayla Fallon, stars alongside Michael Fassbender in the Macbeth movie.
Read more…
Also
Alumni are invited to the next half-yearly meeting of the General Council on Saturday 30 January 2016 in the Senate Room, Main Building, at 11am.
---
First published: 9 December 2015