Mhairi Black - Alumnus of the Year
Mhairi Black (MA 2015) has been named as University of Glasgow Young Alumnus of the Year 2015.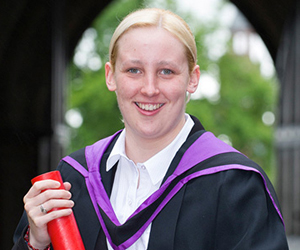 She collected her award at the University's annual Christmas Dinner on Saturday 5 December.
Last year Mhairi graduated from the University of Glasgow with a first class joint honours degree in Politics and Public Policy. During her final year at the University she was elected MP for Paisley and Renfrewshire West, becoming the youngest MP in nearly 200 years.
Read West End to Westminster, an Avenue magazine article in which Mhairi talks about her studies, getting into politics and dealing with media attention.
The Young Alumnus of the Year Award is an annual honour to celebrate the achievements of alumni who have graduated within the last 15 years and made a major contribution to the community, arts, sciences or business.
Avenue: West End to Westminster
---
First published: 8 December 2015