UofG theatre artist wins £40,000 arts prize
Theatre director and creative artist Graham Eatough has won the £40,000 Contemporary Art Society Annual Award for his collaborative film commission looking at the life of author Anthony Burgess.‌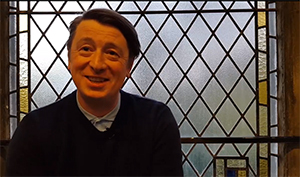 Graham, a teaching assistant in Theatre, Film and Television Studies at the University of Glasgow, won the prestigious arts prize with Glasgow based co-artist Stephen Sutcliffe.
The £40,000 prize is one of the UK's highest value contemporary art awards, and the Glasgow based artists won the prize for their commissioned two 15 minute films on the life of Anthony Burgess which should go into production later next year.
The films are expected to premiere at the Whitworth Gallery in Manchester in June 2017 and feature in the Glasgow International Festival of Visual Art in 2018.
The films will be based on the first and last chapters of Anthony Burgess' Enderby novels, to mark the centenary of the author's birth.
Commenting on the win, Graham Eatough said: "It's a brilliant building block in terms of us raising the rest of the money for the project, and also a seal of approval from a really impressive panel of judges, people whom we really resepct in the art world.
"We feel really privilleged to have got such an award and to be able to continue to develop the project with a bit of confidence and a bit of momentum now. The prize will go to develop the project which I am working on with visual asrtist Stephen Sutcliffe."
During his career Anthony Burgess wrote 33 novels and 25 works of non-fiction, but he is best remembered for A Clockwork Orange, which gained notoriety after being turned into a film by Stanley Kubrick, but which Burgess said was his least favourite work.
Graham Eatough is a highly respected theatre artist and director, who also teaches Theatre, Film and Television Studies at the University of Glasgow.
His production of HeLa by Adura Onashile won Scottish Arts Club Best Show at the Edinburgh Festival 2013 before its world tour in 2014.
His most recent production was Lanark: A Life in Four Acts, an adaptation of Alasdair Gray's iconic novel, produced by the Citizens theatre and premiered at the Edinburgh International Festival 2015.
The production opened to critical and audience acclaim and won the Herald Angel prize during the festival.
---
First published: 26 November 2015