Volunteers brave the elements
Six volunteers from University Services Volunteering Scheme braved the elements last week and volunteered to dig a pond in Dams to Darnley Country Park in the Southside of the City.
Dams to Darnley Country park sits in the greenspace between Barrhead, Darnley and Newton Mearns. It is used by locals who want to enjoy the wilds of the countryside in the city. The area is biodiverse and is particularly important for its wildlife.
The rangers in the park were seeking a group of volunteers to come and create a new pond to encourage more newts, frogs and small invertebrates to the area.
Despite the weather, the group worked really well together and created not just a pond but also a hiboretum – a place for these small animals to hibernate over the winter.
The day is part of University Services' Volunteering Scheme which is open to those interested in taking part in group activities with other colleagues from across University Services. Last year, a pilot was successfully run and this year, the scheme will run for another year within University Services.
If you are interested in taking part in future events, please email volunteer-programme@glasgow.ac.uk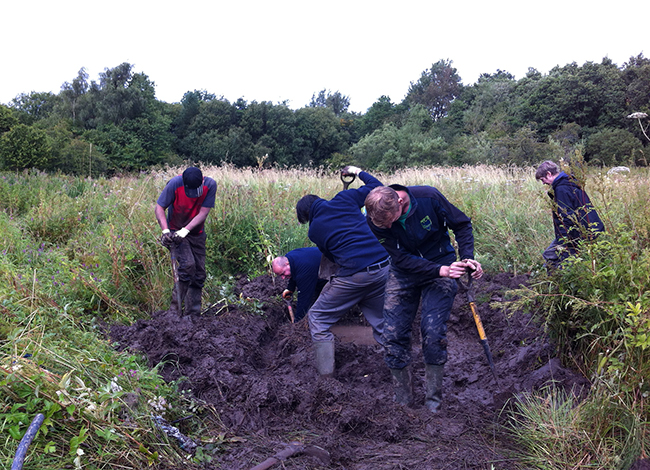 ---
First published: 31 August 2015