Inspiring People with Potential
Published: 31 August 2015
Why investment in Widening Participation is now reaching an exciting phase...read on.
by Jonathan Jones, Head of UK Recruitment and Widening Participation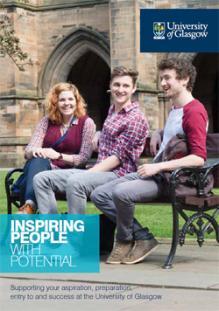 Widening Participation (WP) continues to be a priority here at Glasgow and as a result of significant recent university investment, several WP initiatives have been introduced.
Now that most of these pilot stages are complete and full roll-out is underway, the central WP team, based in RIO, have launched an up to date and comprehensive web resource, with accompanying print materials, helping to showcase what we do, why we do it, for whom, where, when and how.
Our goal is to help school pupils and college students, adult learners, funders, partners and, of course, university staff, understand what we do and how they can benefit from, or contribute to, our efforts.
You can view this new section of the University website, visit Inspiring People with Potential.
We know that many of our academic colleagues are also active in this area; supporting and encouraging ambition regardless of circumstance, wherever it's found.
If you are one of them, we would love to hear more about what you do, helping us to develop a comprehensive picture of activity across the University. You can contact me at jonathan.jones@glasgow.ac.uk.
Glasgow leads the way
You may not know that Glasgow has long outperformed other Scottish ancient universities, as well as many newer universities too, in the recruitment of WP students. These entrants will meet one, or more often than not, multiple factors from the list below:
• Attend a school with low progression to Higher Education (any school below the national average, currently 35%)
• Have spent time in care
• Reside in an MD20 or MD40 postcode (20% or 40% most deprived postcode areas in Scotland, as determined by the Scottish Index of Multiple Deprivation)
• In receipt of Educational Maintenance Allowance (EMA)
• In receipt of Free School Meals
• Adult returners to education via an Access Course
• First in family to enter HE
• Have refugee / asylum seeker status
• Entrant from a Further Education College (FEC)
Following a review in 2012/13 and despite the recognised, long-standing performance of pre-entry programmes like Top-Up, Reach and Summer School, it was felt that there were obvious gaps in our provision.
For example, our activity in schools that helps realise aspiration and prepare pupils for application and admission into university, started at S4 at the earliest but predominantly S5 or S6, by which time it was too late to influence subject choices and exam routes.
In addition, school pupils who may have met some of the above criteria but attended higher progression schools were missing out on the opportunity to benefit from a pre-entry programme. Activity was also confined to in-school or on-campus sessions for schools only located in the west of Scotland, and many potential students were put off from applying to Glasgow by our entry requirements, compounded by a lack of support from peers, families or just as a result of their circumstances.
"MD40" students
These issues, combined with the increased focus by the Scottish Government on improving access from all areas, geographically and socio-economically Scotland-wide, the addition of more funded places for "MD40" students, and our binding commitment to improve the recruitment and retention of these students in the University's Outcome Agreement with the Scottish Funding Council, all led to an on-going development plan. Which was funded by SMG-approved investment, to build long term enhanced capacity and capability in this vital area of student recruitment.
New developments include:
• The development and launch of an Early Secondary Programme, working with pupils from S1 – S3 in the lowest progression schools in the west of Scotland
• In conjunction with FOCUS West, the development and launch of FOCUS Point, an online web resource to guide S1-S6 pupils, teachers and parents alike, across Scotland, on subject choices, career aspirations, appropriate educational routes and the support available
• The expansion of our professional subject pre-entry provision to include Engineering, Education and Accountancy & Finance, complementing our existing provision for Medicine, Dentistry, Vet Medicine and Law via the successful and highly commended Reach Programme (recently shortlisted for The Herald's WP Initiative of the Year)
• The development of a dedicated WP Admissions approach, utilising an expanded contextual dataset and communicated widely to all schools and Local Authorities, integrating grade adjustments with pre-entry programme performance
• Expansion of the WP Summer School with completion formally linked to adjusted offers made by Admissions to WP applicants Scotland-wide
• Improved provision for and engagement with Care Leavers and Adult Learners, the former being exemplary rated since 2007 by Buttle UK, one of only two Scottish HEI's to have been
• Increased quantity of Talent Scholarships to support students overcome financial barriers that deter many from progressing to higher education
• The introduction of a specific orientation event and during study e-communications to aid transition and retention of this large cohort of students
As a result of the above, the number of school pupils and adult learners engaged with per academic year has increased from 2,000 in 2010/11 to over 10,000 in 2014/15, with the expectation that we will provide information, advice and guidance to over 12,000 individuals on an on-going basis from 2015/16.
This in turn will increase the quantity and quality of applications as learners progress through school and/or college. Retention of MD40 students is also improving.
These are talented and committed students who seize the opportunities provided. As a result of our long standing provision and research, we know that students who complete Top-Up or Summer School are not only more likely to continue and succeed at Glasgow than students from their school who did not do the programme, but also students from higher progression schools in the same area.
The expanded range of WP provision now means that, for the first time, the University has an expansive, progressive and integrated approach for school pupils from S1-S6 as well as adult learners, supporting applicants from across Scotland to realise their potential and join our diverse student body of future world changers.
As a result, the University is in a good place to contribute to the Scottish Government's recently announced goal of 20% of Scottish university entrants coming from the 20% most deprived areas of Scotland, as well as contributing to the Commission on Widening Access.
To find out more, please contact Jonathan Jones or Neil Croll.
---
First published: 31 August 2015