UofG and Pune researchers share a place in the Sun
Published: 3 August 2015
Astronomers from Glasgow and Pune are working together to study eruptions on the Sun.
Astronomers from Glasgow and Pune in India are working together to study eruptions on the Sun, following the renewal of the partnership agreement between the University of Glasgow and the Indian Institute of Science Education and Research in Pune (IISER-Pune).
Scientists in astronomy and astrophysics from the two universities have a common interest and are international leaders in studying the sun using ground and space-based observations.
The Glasgow group has been working with X-ray observations of the sun, notably with the award-winning NASA mission RHESSI (the Reuven Ramaty High Energy Solar Spectroscopic Imager), whose primary mission is to explore the basic physics of particle acceleration and explosive energy release in solar flares.
This research complements radio studies of the Sun which are being conducted in Pune.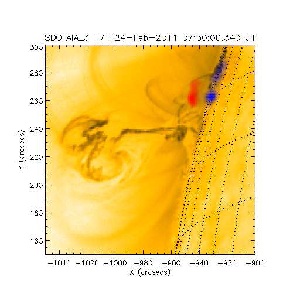 Eduard Kontar, a member of the Astronomy Group at the University of Glasgow said:"IISER has close connections with the radio astrophysics group of Tata Institute of Fundamental Research (TIFR) and with the Inter-University Centre for Astronomy and Astrophysics, both of which are located in Pune.
"The links between Glasgow and Pune will ensure that astronomers at the University of Glasgow will be connected to the best Indian astronomy programmes."
Dr Prasad Subramanian, Associate Professor of Physics at IISER Pune, who is currently visiting the Glasgow Astronomy Group and presenting a seminar this week, added: "We have identified a few areas of mutual interest where our groups have complementary expertise, and look forward to a productive collaboration. The focus will be on physical processes underlying transients in the corona and the solar wind, which affect near-Earth space environment."
Both groups have a particular interest in eruptive solar activity – complex phenomena which govern conditions in outer space and which affect a wide range of space-based technologies which are used routinely in daily life. These include satellite communication and GPS systems.
The study of eruptive solar activity is a high priority research area for solar system science for both the European Space Agency (ESA) and NASA, the U.S. Government's National Aeronautics and Space Administration.
Dr Kontar said: "These complex problems require expertise from various sub-areas, therefore collaboration between Pune and Glasgow will strengthen the position of both groups."
The collaboration will cover not only research but also the teaching of postgraduate students. The University of Glasgow is a member of SUPA (the Scottish Universities Physics Alliance) which pools physics research and postgraduate education across eight Scottish universities. It is hoped that SUPA's lectures for Masters and PhD students in Scotland will be shared with postgraduates at IISER by using distance learning technology.
The two institutions have been working together for over 5 years having been selected to take part in a government sponsored scheme to promote collaboration between leading research institutions in the UK and in India. Initial activities included workshops on innovative teaching methods in science education with staff at IISER-Pune and mutual research interest coalesced in the field of Chemistry. The partnership was successful in bidding for funding to support reciprocal seminars on Structure and Dynamics held in Pune in 2012 and in Glasgow in 2013.
The International Dean for South Asia at the University of Glasgow, Professor Vivienne Baumfield, said: "It is exciting to see the development of the relationship with IISER-Pune exemplifying the principle of building sustainable and mutually beneficial international partnerships."
Find out more
---
First published: 3 August 2015