UofG Professor guest edits Nanomedicine journal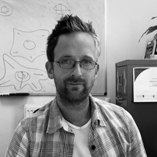 University of Glasgow professor Matthew Dalby has guest edited 'Nanomedicine' medical journal together with his first PhD student.
Professor Dalby and Dr Biggs had the opportunity to act as guest editors for a Special Focus Issue of Nanomedicine 'Engineering the nanobioenvironment for regenerative medicine.'
Professor Dalby said: "The co-editor was my first PhD student, Manus Biggs and it was really nice to work with him again.
"Another reason that the experience was very good was because we had the chance to write about our colleagues Emeritus Professor Adam Curtis and the late Professor Chris Wilkinson. They are people who opened up this research area and who were very influential for us."
The special edition comprises nine primary research articles and three reviews covering topics relevant to the current translation of nanotopography and nanofunctionalization for nanoscale regenerative strategies in medicine.
Professor Dalby said: "This special focus issue on nanoscale regenerative strategies focuses on basic and translational aspects of nanotopography and nanofunctionalization, and also gives perspective to future fundamental developments in the field, helping provide a future translational pipeline."
A full list of the article can be found at Futuremedicine.
---
First published: 2 April 2015