Car share like Peter Kay
With Peter Kay's new sitcom 'Car Share' coming to our screens this month, now is the perfect time to get involved in the University of Glasgow's JourneyShare system, writes Viola Retzlaff, Travel and Transport
Co-ordinator.
Car Share shows Peter Kay go through the highs and lows of car-sharing. The series follows John (Peter Kay) and Kayleigh who have been thrown together in a company car share scheme to travel to their respective jobs at a major out-of-town supermarket.

Each journey brings fresh insight into John and Kayleigh's lives, with twists and turns in their unlikely relationship.

The sitcom is due to be broadcast on BBC One at the end of April.
The University of Glasgow runs a JourneyShare system which gives staff the opportunity to find a partner to share journeys with. This includes by car, bicycle, taxi and on foot.
Sign up at JourneySharing.
In Car Share, Peter Kay finds out some of the benefits of journey sharing, including:
We may all start a little bit shy and awkward, but it usually blossoms into genuine friendship
Silences really can be comfortable
It transforms your commute
It's the best thing ever when you're not up to driving
Sharers really do love a sing-along to the radio!
As well as saving money and fuel you can enjoy the benefits too by registering your journey on JourneyShare.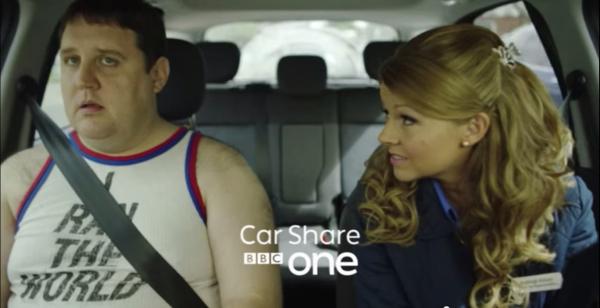 ---
First published: 2 April 2015