Fulbright Awards for two Glasgow academics
Issued: Thu, 18 Aug 2011 16:14:00 BST
Two academics from the University have received grants from the Scottish Government to take up positions in two US universities through the prestigious Fulbright Award scheme.
The Fulbright Awards is a unique exchange programme that offers teachers, research staff and students from US and UK universities the opportunity to study, lecture or pursue research opportunities between the two countries.
Dr Valerie Wallace is the inaugural Fulbright Scottish Studies Scholar and she will spend the 2011/12 academic year as a visiting fellow at the Center for History and Economics at Harvard University. While there she will be carrying out research for a postdoctoral project entitled 'Scots Presbyterian Radicalism: a Global History, 1815-1914'. She will also be promoting Scottish Studies in the US by speaking at various conferences and delivering guest lectures.
Valerie studied from undergraduate to Ph.D. level at the University, and currently works as a Research Associate on the Bentham Project in the Faculty of Laws, University College London.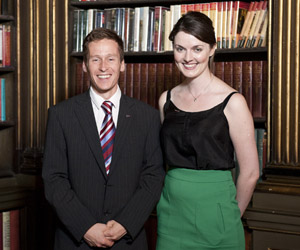 Dr Steven Reid is a lecturer in Scottish History and will be spending four months at Yale University's Divinity School, where he will teach a course on the history of the Scottish Reformation and its impact on Scotland's cultural life. Whilst there he will also lead a reading group on the neo-Latin poetry of the Scottish church and educational reformer Andrew Melville.
Steven is an expert in the intellectual and religious culture of Scotland during the renaissance and reformation (c. 1450-1650). He is the author of Humanism and Calvinism: Andrew Melville and the Universities of Scotland 1560-1625 and (co-edited with Emma Wilson) Ramus, Pedagogy and the Liberal Arts: Ramism in Britain and the Wider World (both Ashgate, 2011).
Speaking about the award, Steven said: I was delighted to learn I had received a Fulbright award, and I was even happier to learn that Valerie, one of our graduates, is the first ever Scottish Studies Scholar. My time at Yale Divinity School will allow me to develop further my current research into Latin culture in early modern Scotland, as Yale has an incredible collection of Scottish Latin texts from the sixteenth and seventeenth centuries. I also hope to learn more about the theological dimension of the broader European reformation from some of the world's leading experts in the field, which will hopefully give me some new insights into how the Protestant movement developed in Scotland.
Scholars are selected through a rigorous application and interview process. When making these awards the Commission looks not only for academic excellence, but a focused application, a range of extracurricular and community activities, demonstrated ambassadorial skills, a desire to further the Fulbright Programme and a plan to give back to the recipient's home country upon returning.
Notable alumni of the US-UK Commission include: Malcolm Bradbury, novelist; Liam Byrne, politician; Milton Friedman, economist and Nobel Prize Winner 1976; Charles Kennedy, politician; John Lithgow, actor; Tarik O'Regan, composer; Sylvia Plath, poet; Lord William Wallace, politician; Ian Rankin, novelist; Sir Christopher Rose QC, judge; Baroness (Shirley) Williams, politician; Vanessa Heaney, journalist BBC World Service; and Toby Young, journalist and playwright.
---