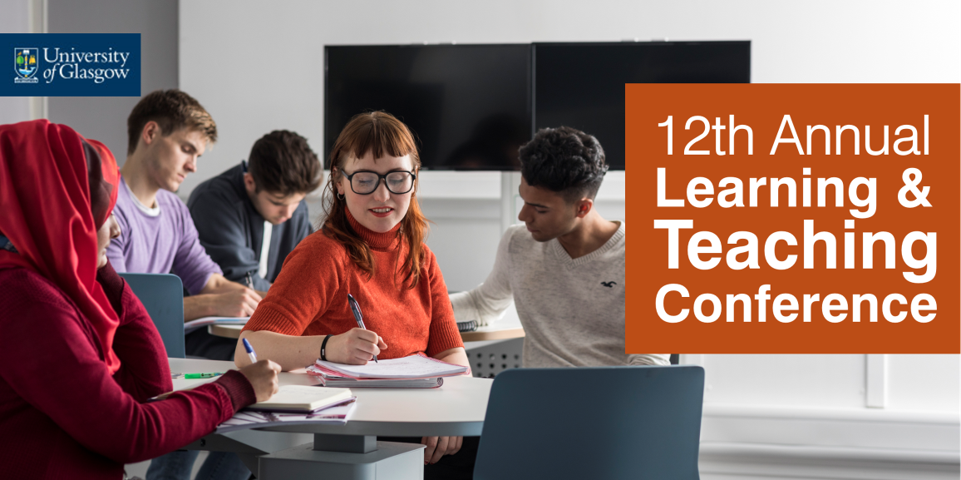 The 12th Annual University of Glasgow Learning & Teaching Conference took place on Tue 2 & Wed 3 April 2019. Next year's conference theme will be announced in due course, at which point a call for presentations will open.
If you have any questions, get in touch on LEADS-LTConference@glasgow.ac.uk
Conference theme
The title of this year's Conference is 'Blended and Active Learning: where are we now, and where do we want to be?'.
Over the last few years, the University has put a significant amount of effort and resource into developing capacity for Blended Learning, as well as providing opportunities to enhance Active Learning. Colleagues from across the University, and more widely in the sector, are using spaces in different ways, and using technology to blend learning in the classroom with online activities. These efforts have enormous potential to transform teaching and the ways in which our students engage with learning.
This year's conference is an opportunity for us to take stock: what are we doing, what works, what doesn't work and how do we want to develop over the next few years? The implications for accessibility, inclusiveness, and the outcomes and experiences of our students are significant, and the conference is an opportunity to share experiences from different parts of the University and elsewhere to shape future enhancements.
(To help you quickly spot the sessions you might be most interested in, we've continued these theme colours throughout the online programme.)
1: Accessible and inclusive learning
With an increasingly diverse student population, it is important for us to be as accessible and inclusive as possible. Rather than merely being reactive to accommodation when the need arises, we are particularly interested in proposals discussing proactive initiatives to make learning, teaching, and assessment accessible to all.
2. Technology beyond the VLE
Technology is becoming ubiquitous in learning and teaching. Now, more than ever before, learning technologies are enabling new forms of communication and interactivity regardless of location. Students and academics have a vast choice of digital tools to design and implement tasks which reside outwith the VLE confines, or which complement the basic functionality offered by Moodle. We are interested in receiving proposals in the successful deployment of other learning technologies to support and enhance students' and or staff learning, including the use of augmented and virtual reality or visualisation techniques, being cognisant of the challenges as well as benefits that this can bring.
3. Assessment and feedback to support active learning
As our classrooms become increasingly interactive, our types and modes of assessment and feedback need to keep pace. We are interested in proposals that will show how approaches to assessment and feedback reflect our changing approaches to teaching and facilitating learning. This might include moves towards assessment tasks that are more authentic (either formative or summative), or moves away from 'traditional' assessment and feedback methods that might be adopted elsewhere.
4. Place and space
Whilst newer spaces can be developed for new ways of teaching, existing space can be used in different ways to promote active learning in the classroom. Learning spaces outside the classroom are also becoming increasingly common, both virtually and in non-traditional locations. Disciplines can learn from each other about how space can be used to enhance student engagement. We welcome abstracts that showcase innovative and novel ways to engage students in a range of learning spaces, including abstracts that show cross- and inter-disciplinary implementation.
5. Creative approaches
Are you doing something very different in your teaching? Are you using innovative methods, resources or technologies? Have you found creative ways to develop student learning and skills? If so, we'd love to hear about it. Proposals on this theme can cover any aspect of learning, teaching or assessment - they just need to showcase the creativity of our staff in finding new ways to enthuse and engage learners.
Selection criteria
Lightning talks will be selected on the basis of how interesting or useful the proposed talk will be to other delegates at the conference (as well as alignment with the Conference subthemes), so please think carefully about how to make your work transferable to others.