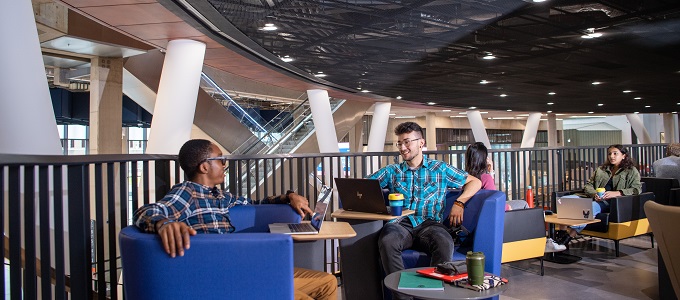 16th Annual University of Glasgow Learning & Teaching Conference
Access to Opportunity
Wednesday 29th March 2023 (online)
Thursday 13th April 2023 (on campus)
#LTConf23
Conference format and venue
The 2023 Conference will be a hybrid event taking place over 2 days.
Day One (29th March)
This will be totally online (Zoom), and will be open to all staff and students at UofG and also to external delegates.
Short prerecorded (ten minute) videos will be uploaded to the UofG ADD YouTube account to publish on the day of the conference. Parallel sessions will use a 'watch party' format (Kuepper-Tetzel, C. and Nordmann, E. (2021), where videos will be live streamed by the session chair and presenters will join the session chair on the Zoom stage in order to answer questions from the audience.
Digital posters will be uploaded to these web pages and published one week prior to the conference. There will be opportunities to ask the poster authors questions.
Day Two (13th April)
This will be on campus in the James McCune Smith Learning Hub, and will be open to all staff at UofG.
Practitioners with experience of designing and facilitating active learning sessions will be running interactive workshops and drop in sessions related to the conference theme and subthemes. This event is being co-ordinated by the UofG Active Learning Network Satellite Group.
Conference Registration
Registration for the conference is now open.
Register for Day One (open to staff and students at UofG and to exernal delegates).
Registration for day one will close on Friday, 24th March.
Register for Day Two (open to staff at UofG).
Registration for day two will close on Monday, 3rd April.
For any queries, contact the Conference Team
Conference Theme
Conference Theme: Access to Opportunity
This theme will allow us to showcase and celebrate the many opportunities that are open to students at UofG and across HE to develop transferable skills and graduate attributes.
The sub-themes are designed to expand on the overall conference theme and to help us to further embed the pillars of the current Learning and Teaching Strategy in our teaching and assessment practices, and to showcase how practitioners are achieving this.
Subthemes
workplace learning
widening participation
working in partnership with Further Education
working in partnership with industry
graduate attributes
skills development
For any queries, contact the Conference Team