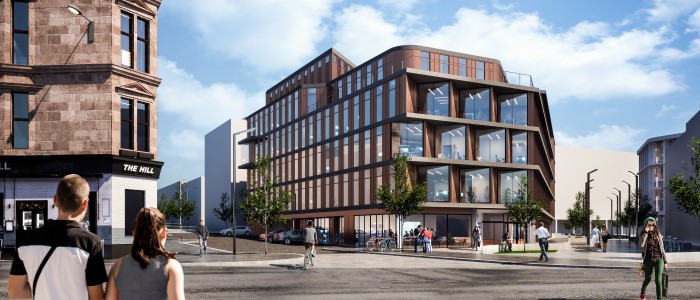 The Clarice Pears building houses the University's School of Health & Wellbeing, allowing staff from 10 different sites around the city to come together in a single state-of-the-art facility.
The building was completed at the end of 2022.
Building info
Location: Western Infirmary Site
Completion date: Q4 2022
Size: 8034m2
Architects: Atkins

The Clarice Pears allows the University's School of Health & Wellbeing to bring staff from 10 different sites together into a single multidisciplinary centre on the University's Gilmorehill campus.
It is named after Clarice Pears, mother of the three founders of the Pears Foundation, which donated £5 million towards the building's construction.
The Clarice Pears building significantly enhances the School's reputation and influence within the sector, increasing PGT and PGR capacity, attracting and retaining high-calibre staff. It provides the means for both opportunistic and planned collaboration and networking, and different disciplines share social spaces. The building is used to host joint seminar series, workshops and knowledge exchange events, as well as developing new multi-disciplinary post-graduate courses.
It also provides an ideal setting to support partnership working, allowing close links with external partners, such as the NHS, government, voluntary sector and industry, which are all essential to allow research to be translated into changes in policy and practice and therefore achieve a real impact on health.
The ground floor provides a welcoming and publicly accessible space dedicated to knowledge exchange and public engagement, which also supports our widening participation goals.
Themes
The new building hosts three multi-disciplinary research themes:
Determinants of Health and Health Inequalities – the facility will drive forwards the University's work at the forefront of population health and inequalities in health. It will address the broad range of factors that determine health and wellbeing and identify opportunities to improve the health of individuals and populations.
Data Science – this theme will look to explore big data, creating cross-sectoral linkages between healthcare, education, housing, environment and others. The new building will be close to the ESRC-funded Urban Big Data Centre, which will facilitate novel linkages.
Solutions-Focused Research – this theme will undertake downstream research evaluating evidence-based interventions. The new building will allow the School to collocate the Robertson Centre for Biostatistics (world-leading in randomised controlled trials), the MRC unit (world-leading in complex interventions) and the recently-funded NIHR (National Institute for Health Research) Centre for systematic reviews.
Project delivery board
Members:
Convenor Jill Pell (

School

of

Health

&

Wellbeing

)
Clerk Cath Cush (Estates)
Caroline Gray (Estates)
Scott Baird (Estates)

Martin Munro (Estates)

Asha Costigan (

School

of

Health

&

Wellbeing

)
Stuart McDonald (College of Medical Veterinary and Life Sciences)
Laurence Moore (MRC/CSO Social & Public Health Sciences Unit)
Gareth Morris (MRC)
Kate O'Donnell (

School

of

Health

&

Wellbeing

)
Sara Macdonald (

School

of

Health

&

Wellbeing

)
Hamish McLeod (

School

of

Health

&

Wellbeing

)
Liz Anderson (

School

of

Health

&

Wellbeing

/ Robertson Centre)
Nick Wade (Communications and Public Affairs)
Mark Tranmer (School of Social and Political Sciences)
Scott Masterton (Commercial Services)
SRC