Climate change and our changing coastline
The world's rising sea levels are expected to put up to one billion people living in low-lying coastal regions at risk by 2050. Coastal stability is vital in underpinning key industries, transport links and tourism – but climate change is a major threat to large parts of our coastline.
Dynamic Coast, a pioneering Scottish Government-funded coastal assessment project led by Professor Jim Hansom, has had a major impact on informing Scottish Government policy around coastal flood and erosion management and climate change risk.
For a small country, Scotland has a lot of coastline – 21,000km, in fact – with one in five people living within 1km of the sea. Almost one fifth of this is "erodible" in the form of beaches, dunes and salt marshes.
The Dynamic Coast team established how Scotland's erodible shorelines have changed over 130 years. The study used 2,000 maps and over five million calculations, including transects produced every ten metres along the coast, to show that coastal erosion in Scotland has risen by 39% since the 1970s.
Dynamic Coast modelling anticipates that more Scottish coastline will be affected in the future, and at a quicker rate, as global greenhouse gas emissions continue to rise.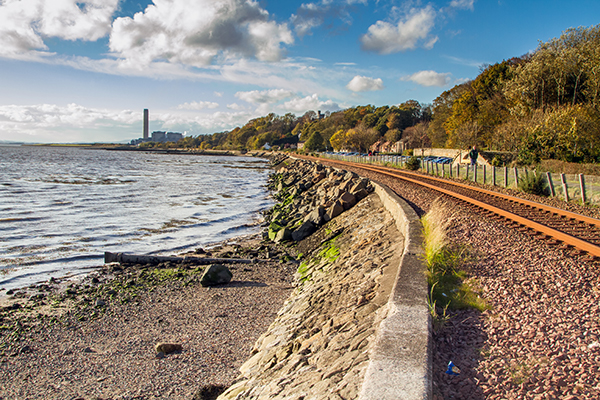 Image: Railway tracks by the Culross Coastline in Scotland
Thanks to the project, a detailed risk assessment of the vulnerability of Scotland's coast has allowed areas at risk of potential erosion to be identified.
The research findings and interactive maps are being used by agencies including the Scottish Environment Protection Agency and Scottish Water, as well as businesses and councils, and as a direct result of the project, the Scottish Government has earmarked £12m for coastal adaptation projects.

Dynamic Coast is already shaping adaptation policy at national and local level, helping local authorities develop better flood and erosion risk plans and allowing resilience planning for the marine, renewables, transport, leisure and water industries, among others. By establishing past and anticipated coastal shifts, it helps ensure the resilience of Scotland's coastal assets in the face of inevitable climate change.
By providing a better understanding of the areas under threat, the project enables planning to protect coastal assets, communities and key cultural and historic sites.
"Making space for the coast to relocate and for displaced coastal assets to move to less risky sites, as is happening in places such as Alaska and the South Pacific, will be a key approach, as well as enhancing our natural defences.
"Adding sediment to beaches, enhancing sand dunes and salt marshes all helps absorb wave energy and reduces the impact of rising sea levels – this has already been successful on the Eden estuary at St Andrews." say Professor Hanson.
"Climate change is making erosion and flooding more likely. Dynamic Coast evidence greatly enhances our ability to act and adapt in time, and ultimately become 'sea-level wise'." Professor Jim Hansom
Image (above): Estuary of the River Eden, seen from the footpath by the golf courses in St Andrews, Fife.